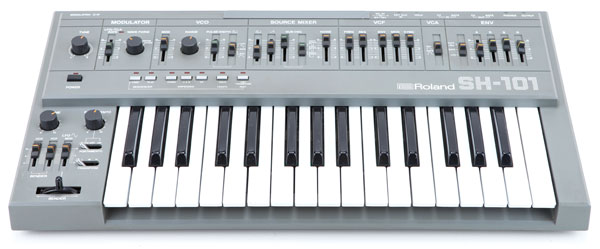 The SH-101 is very cool, especially for techno, drum&bass and ACID! It's a monophonic bass synthesizer. Its sound lies somewhere between the TB-303 and a Juno bass sound. It has a lot of simple but cool features. You can control the VCF, pitch, LFO or all from the pitch bender. It has a white noise generator, arpeggiator with up, down and up/down patterns and a simple real-time sequencer. The LFO offers random, sine, square or noise waveforms. And normal or auto portamento effects give you that elastic bass sound. There are external clock inputs for the sequencer and arpeggiator, CV/GATE inputs and outputs and a CV hold pedal.
Unfortunately there is no patch memory storage and although it has no MIDI there are upgrades available for it from many analog service companies that will allow you to incorporate it into any MIDI studio environment. It can also be controlled by MIDI using a CV/MIDI converter. It's great for bass sounds or bubbly analog effects. They come in three different flavors - gray, blue or red (there was a VERY rare white version too)! It can also be strapped on like a guitar for live performance using the optional Hand Grip.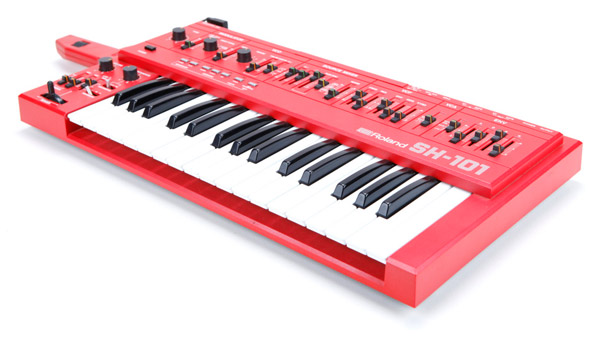 It is used by Orbital, Future Sound of London, Überzone, The Prodigy, 808 State, The Grid, Cirrus, Eat Static, Jimmy Edgar, Apollo 440, Devo, Union Jack, Luke Vibert, Dirty Vegas, Josh Wink, the Crystal Method, Aphex Twin, Astral Projection, Les Rythmes Digitales, Sense Datum, Squarepusher, Sascha Konietzko of KMFDM/MDFMK, Freddy Fresh, Lab-4, Nitzer Ebb, the Chemical Brothers, Boards of Canada and many more.
Demos & Media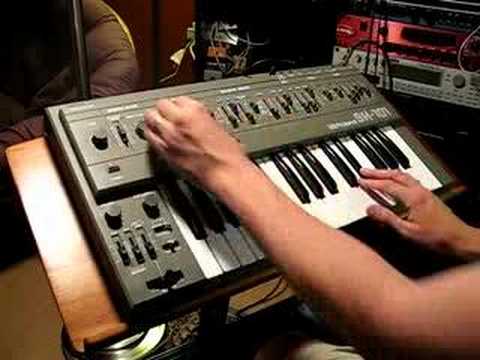 Manual
Roland has made manuals for most of their products available as free PDF downloads.
Patch File
This is a text document describing how to set up the SH-101 for a nice Orbital style synth lead sound.
Specifications
Oscillators -
1 VCO (independent levels for saw, square/pulse/pwm and sub-oscillator)
LFO -
triangle, square, random and noise waveforms
Filter -
resonant, self-oscillating LPF, mod by EG, lfo and kybd tracking
VCA -
ADSR, mod by EG or gate
Arpeg/Seq -
Digital sequencer up to 100 steps record/playback; Arpeggiator patterns: up, down, up/down