Wine Country Sequential Pro One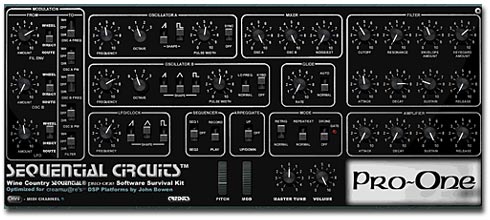 Wine Country Sequential's new Pro One software synth has one major Pro and one major Con. The Pro, is that it sounds just about as good as you can at totally reproducing the sound of the classic analog Pro One monosynth from the old Sequential Circuits company. The Con, the Pro One is a soft synth designed specifically for use with Creamware's Pulsar/Luna I/O cards. Owners of such cards can get this plug-in for a mere $99! The rest of use will have to shell out $452 for both the Pro One software synth and a Creamware Luna DSP card (compatible with both Mac/PC).
That said, the Pro One is a stunning replica, both in interface and sounds! Every knob rotates, and every switch switches. No worrying about sticky notes, dead switches or dirty pots! All those analog problems are gone, except for that sound! But the designers could not resist, and they added new features too, including polyphony, program memory, an improved arpeggiator & step sequencer, and full MIDI control. The Pro One software synth could be a must have product, if only it were not limited to Creamware's DSP cards.
This isn't any ordinary software synth. Wine Country Sequential has been preserving, restoring, and servicing vintage Sequential Circuits equipment for years. The Pro One is called a software survival kit. Its intention is to preserve the sound of the aged (1981) Pro One mono synths for future generations of musicians. Because it was designed in conjunction with John Bowen (former Sequential Prophet Team member) of Zarg Music who now designs software synths for the Creamware DSP card, the Pro One is based on the DSP power of the Creamware DSP cards, and may not (if ever) be available in other more native computer plug-in formats. An original Pro One could be found for about the same price as this whole package. But with its authentic sound and new features...unless you're nostalgic, go for the software survival kit!
Demos & Media
Audio Clip 1
This Demo plays four sets of comparison tones. The first tone in each set is the WCS Pro One "survival kit" softsynth and the second tone in each set is an original SCI Pro One.
Specifications
Polyphony -
Unlimited (depending on CPU power)
Oscillators -
VCO A saw/pulse, VCO B saw/tri/pulse, Noise
Filter -
cutoff, res, ADSR env, kbd
Arpeg/Seq -
Arpeg: UP, UP/DOWN patterns; SEQUENCER: 2 patterns of pitch info only
Memory -
Unlimited Program Memory
Macintosh -
G3/300/128MB/OS8.6+
Windows/PC -
300 MHz, 64 MB RAM, Windows 95/98