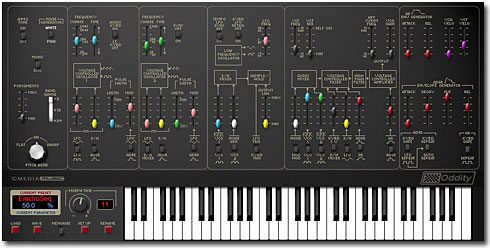 GMEDIA Music and Ohm Force (now GForce Software) worked together to faithfully recreate the look and sound of the classic Arp Odyssey and they came up with The Oddity. Together, they modeled every nuance of the original instrument's circuitry and design in this software synth plug-in available as a VST instrument for Mac and Windows/PC as well as an Audio Unit version for Mac OS X. While capturing the character of the original it adds some necessary enhancements that make the sounds of the Odyssey fully accessible and useable to any of today's computer-based musicians!
Like it's precursor, it offers dual oscillators with mono or duophonic modes. The Oddity features two syncable oscillators - fully tunable across a six octave range, with sawtooth, sine, square and variable pulse width waveforms. White and pink noise, a built-in A440 tone generator for tuning the oscillators, host syncable LFO, ring modulator, resonant lowpass filter, highpass filter, sample & hold, portamento, two envelope generators and a wealth of modulation routing options are all plainly laid out just as on the original.
Further enhancements include velocity sensitivity, the ability to 'Morph' between Presets and a unique flying slider feature which allows you to throw sliders around at different speeds, recording these changes within your host application. The GUI also features a glissando keyboard and all on-screen parameters can easily be mapped to external MIDI controllers. There are also user definable VCA and VCF velocity parameters. The original had no patch memory, but the Oddity ships with 5 banks of 64 presets and has virtually unlimited patch storage.
They went for the look of the common black-face Odyssey which was produced before Arp switched over to the orange/black color scheme of their later Odyssey models. Could the model copied here be the one with the famous illegal Moog filter design with the beefier sound than other Odyssey models? Any way you cut it, the Oddity is the real thing! It is an excellent, affordable and sensible way to get your hands on a maintenance-free Arp Odyssey of your own. The original Odysseys have been used by ABBA, Bomb The Bass, Ultravox, Gary Numan, LTJ Bukem, Air, Tangerine Dream, 808 State, Apollo 440, Astral Projection, Chick Corea, George Duke, Josef Zawinul, Elton John, Jethro Tull, R.E.M. and Herbie Hancock.
Demos & Media
Audio Clip 1
A demo where every sound including the drums comes from the Oddity. Demo from GForce Software.
Audio Clip 2
Morphing between some Sample & Hold presets. Demo from GForce Software.
Specifications
Polyphony -
Monophonic / Duophonic
Oscillators -
2 oscillators: saw, square, pulse, pwm (can be modulated by: sine LFO or ADSR envelope), White/Pink Noise and Ring Modulation; oscillator-sync modulated by: ADSR, square/saw LFO, sample-and-hold
LFO -
Sine or Square waveforms, sample-and-hold, Tempo Sync, Kybd LFO Re-triggering, Rate adjustable from 02.Hz to 20Hz.
Filter -
Four-pole resonant 24dB/oct lowpass filter plus highpass filter (static 12dB/oct). VCF can be modulated by: keybd cv, sample-and-hold, LFO, ADSR or AR envelopes.
VCA -
EG 1: AR; EG 2: ADSR
Arpeg/Seq/ -
None (just like the original)
Effects -
None (just like the original)
Macintosh -
VSTi, Audio Unit and MAS formats. Power Mac G4 64Mb of RAM (128Mb from Mac OS 9) Mac OS 8.6 or higher VST Instrument-compatible application such as Logic Audio or Cubase SX
Windows/PC -
VSTi format. Pentium III or better. 64Mb of RAM. All current Windows versions VST Instrument-compatible application such as Steinberg Cubase SX