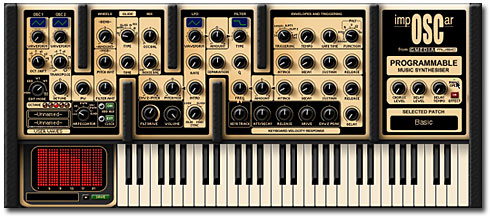 The impOSCar is an enhanced replica of the classic British analog synth from Oxford Synthesiser Company - the OSCar. The OSCar is a much sought-after vintage mono/duophonic synthesizer that was among the first to use digitally controlled dual oscillators and offer plenty of programmability and warm analog sounds great for bass, lead, pads, efx, and so much more!
The impOSCar is a great software plug-in available as a VST instrument for Mac and PC, as well as an Audio Unit plug-in for Mac OS X. Although it's not without its glitches and bugs, it is a beautiful plug-in that accurately reproduces the original's look and lush analog sound while adding a few major enhancements of its own. This plug-in is a must have soft-synth for its ease of use and awesome sound.
Like the original it features two independent oscillators each with multiple waveforms including user waveforms - you can create your own via Programmable Additive Wave Matrix (left of the keyboard)! The original offered mono and duophonic modes, and the impOSCar adds 4-, 8-, and 16-voice modes as well! The filters have been replicated and enhanced as well, providing additional filter modes while maintaining a warm and smooth sound very much like the original. The flexible LFO section now has MIDI sync options and more too.
A new effects section offers stereo Chorus and Delay (with MIDI sync) to really warm and liven' up your sounds. The Delay has independent feedback, delay-time and wet/dry mix control for the left and right for really cool stereo delay effects! The stereo delay also features separate high and low pass filters, adjustable delay units-per-beat, and gate amount. Most of these controls are concealed under the impOSCar logo, which is easily accessed by just a single mouse-click. Additionally there are now programmable Velocity Response controls added to the keyboard (which can be shifted up and down over a 5-octave range). Additional features include a mono, duo and polyphonic arpeggiator with four modes and a portamento with six modes. Like any quality soft-synth, every control can be assigned to a MIDI controller via MIDI Learn with storable CC maps.
While the original had some patch memory storage, the impOSCar has unlimited storage, and your patches can be saved with your sequences. It ships with over 500 patches created by artists from Ultravox, S-Express, Underworld, Basement Jaxx, Terminalhead, and Republica and you can load original OSCar patches via SysEx format. Other users of the original include Hardfloor, Orbital, Ozric Tentacles, Jean-Michel Jarre, Asia, Stevie Wonder, BT, Sneaker Pimps and Keith Emerson. The impOSCar is simply the best way to get your hands on this venerable classic. BT says the impOSCar is, "quite simply, the best softsynth I have ever heard."
Demos & Media
Audio Clip 1
A short demo track where the impOSCar is responsible for all the sounds you hear except drums. Demo from GForce Software.
Audio Clip 2
Duophonic arpeggios with both subtle and savage filter cutoff, resonance & separation tweaks as well as changes to the envelope gate times. Demo from GForce Software.
Specifications
Polyphony -
Mono, Duo, 4-, 8-, and 16-voice polyphonic modes
Oscillators -
2 Oscillators with 13 waveforms (sawtooth, triangle, square, Pulse, PWM, Full Organ, Harpsichord, Strong Lead, Double Pulse, Gritty, User Wave 1, User Wave 2) plus Noise.
LFO -
1 LFO with 12 waveforms (square, triangle, sawtooth, patterns, random, etc.) with multiple sync options
Filter -
Two 12dB/oct analog filters which can be linked in series for 24dB/oct configuration. 9 filter types (2 Lowpass, 2 bandpass, 2 highpass, LP/BP, LP/HP, and BP/HP modes) with Drive, Cutoff, Q and Separation and dedicated ADSR envelope.
VCA -
1 ADSR envelope for Amp plus multiple triggering options with tempo and gate time controls
Keyboard -
54 Keys (switchable over 5-octave range) and retractable. 5 Keyboard Triggering modes. Programmable Velocity Response (Attack, Release, Drive, Env 2 Peak).
Macintosh -
VSTi for MacOS X / 9, Audio Unit for Mac OS X. Power Mac G4 64Mb of RAM (128Mb from Mac OS 9) Mac OS 8.6 or higher VST Instrument-compatible application such as Logic Audio or Cubase SX.
Windows/PC -
VSTi for Windows compatible. Pentium III or better. 64Mb of RAM. All current Windows versions VST Instrument-compatible application such as Steinberg Cubase SX.