The Microcon is a modern-day little analog monophonic synthesizer module emulating the simple design and sound of classic Roland TB-303 and SH-101 synths. They are made by Technosaurus, a Swiss company best known for their high-end Selector modular synths. It is handmade using the same discrete circuits found in its bigger brothers.
The Microcon is a totally analog table-top synth module that's slightly smaller than the original TB-303. It has one main oscillator capable of either sawtooth or square waveforms, just like the TB-303. The addition of a sub-oscillator is more like SH-101, which can help beef up your bass sounds. The analog lowpass filter is switchable as either 2-pole (12dB/oct) or 4-pole (24dB/oct), which is better than the TB-303 or SH-101 offered. The LFO can modulate the filter cutoff frequency with either triangle or square wave and the VCO can be modulated by square or triangle waves. Simple attack and decay envelope controls and a Glide effect round out this fairly simple to use and highly affordable 303 clone. The Microcon only uses CV and Gate for being controlled externally.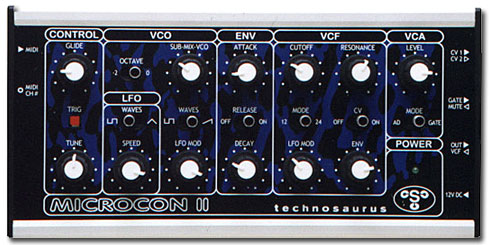 The Microcon II adds MIDI, making this cool little mono-synth available to the masses! The Microcon II has all of the features of the original, but adds MIDI IN for performance and control of parameters such as accent, cutoff frequency and glide. Also new are a filter input to process external signal sources, CV/Gate outputs added, and the Microcon II can be used as a midi to CV converter for other CV/GATE gear.
Demos & Media
Audio Clip 1
A few demo bass-line loops from the Microcon.
Specifications
Oscillators -
1 VCO with square or sawtooth wave plus 1 SUB-oscillator.
LFO -
1 with square or triangle waveforms
Filter -
Lowpass 12 or 24 dB/Octave VCF with Resonance
VCA -
1 Envelope Generator with AD or ADR with manual trigger button. 1 VCA with AD or Gate control.
Control -
Microcon: CV/ Gate Inputs.
Microcon II: MIDI IN, CV/Gate Outputs, VCF CV In.
Date Produced -
Since 1997
Resources
Images from Technosaurus
Thanks to Brian Traister for providing information.