The SH-32 is a 4-part multitimbral desktop synth module using new Wave Acceleration Synthesis to deliver up to 32 voices of fat synth waves and entirely new waveforms. The raw waveforms are sampled rather than mathematically generated and are actually multi-sampled across the octave ranges. There's also a full complement of knobs and sliders, analog-style 808 and 909 drums, DSP effects and a killer programmable arpeggiator - all at a reasonably cheap price.
The SH-32 is more like an affordable follow up to Roland's JP-8000 and JP-8080 analog modeling synthesizers than the real SH-series synths of the seventies/eighties. But that doesn't mean it can't sound like an SH-101, for example. The SH-32 has awesome, aggressive filters, however audible stepping can be heard when slowly twisting the cutoff knob, but not so when modulated with the envelope or LFO. It has many more variations of each classic wave than older SH synths, offering 67 types of waveforms. Everything from thick bass sounds to entirely new sounds not possible on traditional synthesizers can be coaxed out of the SH-32.
Every parameter is available on the front panel via knobs and sliders. There are no hidden menus, although the mass clutter of controls and information printed on the face of the SH-32 is a bit overwhelming, but look closer and it does seem as logically laid out and organized as possible.
Whilst you can certainly hook this baby up to your MIDI keyboard or sequencer and go to town with its great sounds, the SH-32 is perfectly happy running stand-alone making it perfect for DJs, live musicians, and just plain having fun. It has no sequencer but does have an amazing Arpeggiator with programmable or tap tempo settings. There are 64 arpeggiations and 64 drum rhythm patterns and they can be fully programmed by the user. It even has a chord memory feature making it great for techno and trance style arpeggiations. Superb built in effects will sweeten up the sounds immensely as well, with 35 insert fx and 10 types of reverb and delay. The SH32 is a unique combination of virtual analogue synthesis, excellent rhythm sounds, rhythm styles, an arpeggiator, and other 'groove' facilities - with an affordable price and compact size.
Demos & Media
Roland SH32 my demo sounds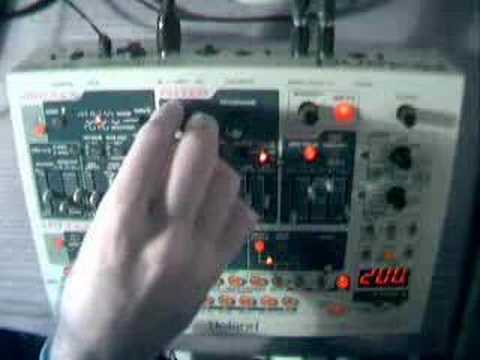 TB303 style sounds abound in this video!
Soil of the Sun-Roland SH-32 Demonstration
Specifications
Polyphony -
32 voices (16 if both oscillators are used, sub-oscillators don't decrease polyphony)
Oscillators -
2 x Oscillators (with Sub Oscillator, PWM, Oscillator Sync, or Ring Modulation). There are 67 waves (7 categories) for main oscillators, 63 rhythm waves for rhythm sets.
Multitimbral -
4 parts (or 3 + 1 Rhythm)
Filter -
1 x Filter: low, band, high pass, PKG; 12dB or 24dB; cutoff and resonance knobs, ADSR, Envelope, Key Follow sliders.
Envelope -
1 ADSR envelope for the Amp
Memory -
128 User Patches, 128 Preset Patches. 4 drum sets including TR-808 and TR-909 sounds. 64 Performance patches.
Effects -
10 types of reverb/delay and 35 insert multi-effects.
Arpeg/Seq -
Arpeggiator: 32 step with 128 patterns (64 arpeggiations, 64 rhythms), Style Programmable (Step/Realtime Input Modes)
Keyboard -
None (has 13 preview buttons)
Resources
Images from Roland
Reviewed December 2007.