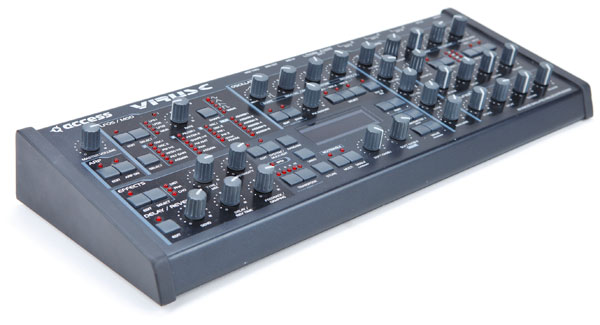 A brand new and ever more powerful strain of the Virus was released in 2002 to replace the entire B Series line-up. First up is the flag-ship desktop module, the Virus C. Polyphony is expanded from 24 to 32 voices! Otherwise the synth engine is virtually the same as the B series. Three oscillators, one sub osc., two independent multi-mode filters, two ADSTR envelopes, three LFOs, 16 arpeggiators, 32-band vocoder, five FM synthesis modes and 16 part multitimbrality. The C series offers an expanded mod matrix with 6 source and 9 destination slots, 98 effects, wood side panels, and more! A new 3-band EQ section is available as well as an Undo/Redo function. The operating systems can be easily upgraded via MIDI and there is a free SoundDiver Virus editor/librarian for Windows and MacOS systems available. It has been used by Nine Inch Nails, KMFDM, and Max Graham.

Virus KC
The Virus KC, pictured above is the classy keyboard version of the Virus C. It features 61 semi-weighted keys responsive to velocity and aftertouch. It is the ultimate hands on Virus synth! There are also individual and assignable Pitch and Mod wheels. Nice wood panels and a layout that remains faithful to the module's intuitive design.

Virus Rack XL
The Virus Rack XL (pictured above) packs the entire Virus C into a single-unit rack-module for those of you who don't need built-in hands-on access. Limited in knobs, buttons and LEDs - but that's all. The Rack XL has all the same features and functions of the Virus C and KC versions. It even has front and rear audio inputs to process external audio through its effects, vocoder, filters, etc.
Virus Indigo 2
The Indigo 2 packs the same great synth engine found in the Virus C into a 'Roadster' style compact keyboard designed after the original Virus Indigo. The new Indigo 2 comes equipped with a new front-panel, a 3-octave keyboard with Aftertouch, aluminum side panels and even more blue LEDs! The Indigo 2 packs power, portability and the legendary Virus sound into an awesome looking synth! It has been used by Richard Barbieri.
Click here for a PDF comparison chart between all Virus products from 1997 through 2002.
Demos & Media
Audio Clip 1
These are various demo sounds and grooves from the Virus C
Audio Clip 2
These are various demo sounds and grooves from the Virus Indigo.
Specifications
Oscillators -
3 Osc per voice plus 1 Sub-Osc: Sawtooth, variable pulse, sine, triangle, oscillator sync. 5 FM Modes: 64 digital FM spectral waveforms.
LFO -
3 LFOs with 68 waveforms
Filter -
2 independent resonant filters; lowpass, hipass, bandpass, band reject, parallel, split & 2 serial modes with up to 36dB/voice (6-poles), overdrive/saturation.
ModMatrix -
6 Sources, 9 Destinations
Effects -
98 simultaneous effects: 16 Phasers, 16 Choruses, 16 Distortions, 16 Ring Modulators, 16 Parametric EQs, Delay, 32-Band Vocoder, Surround Sound.
Keyboard -
Virus KC: 61 Semi-Weighted Keys with note-on/off velocity, pitch bend, modwheel and two switches/control pedals and aftertouch.
Indigo 2: 37 keys
Memory -
1024 programs (256 User / 768 ROM / 128 Multi)
Control -
MIDI (16 multitimbral parts)