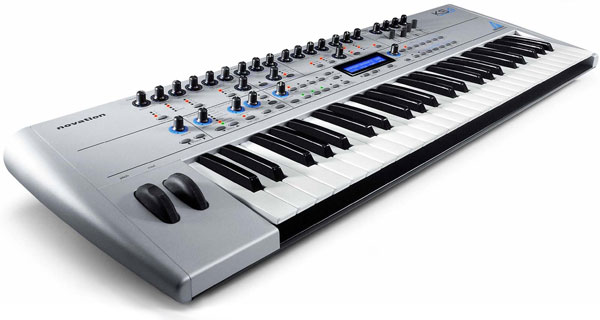 Novation KS4
Using an enhanced version of the K-Station sound engine, the KS4 (four octave keyboard) and the KS5 (five octaves) offer many additional features and benefits.
The keyboards have aftertouch, are semi-weighted, and each of the 33 knobs and sliders transmit MIDI. There is four part multi-timbral operation with four individual assignable outputs. A big plus is a separate effects section for each part - a unique Novation feature from the Supernova. Also featured are 4 Arpeggiators and 16 note polyphony with a 16 band Vocoder.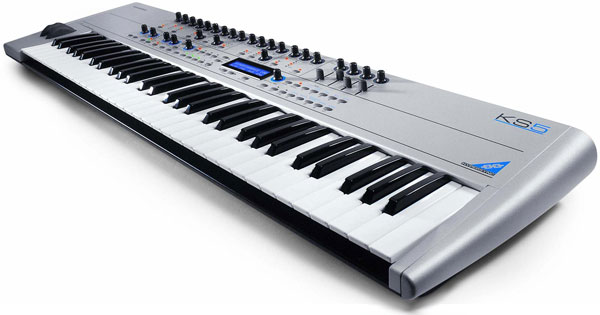 Novation KS5
The KS-synths have 3 oscillators which provide sawtooth, triangle, sine, pulse width modulation and other waveforms. There's even a simple FM synth engine which can be dialed in for sharpening the sound. Oscillators may be set to Unison or Sync'd operation and a Noise source is also included in the waveform engine. There is a nice low-/band-/high-pass resonant filter with switchable 12 or 24dB/oct slopes and ADSR controls. A second ADSR envelope is available for the amp, as well as two LFOs with sample-and-hold and MIDI sync.
On-board effects include reverb and delay/chorus/flanger. Their send levels can be controlled by the Mod wheel which is a nice effect. A 12-band vocoder is also on-board for processing external mono sounds such as drum loops or vocals. Pads sound great when vocoded with external sounds. External sounds can also be used as an oscillator, run through the filters, envelopes, etc. with much better results than were possible on the original Bass Stations.
Novation KS Rack
The K-Station was a great little keyboard, and the new KS4 and KS5 offer a much more professional package to stage and studio musicians! But for those who already have enough keys, a rack module was also released, the KS Rack. It came in a very professional 5-space rack / desktop module with all 33 knobs, sliders and controls as the keyboards. Full of clean analog sounding synth bass, punchy leads, pads, filter sweeps and more, the KS-synths have been used by Infected Mushroom.
Demos & Media
Audio Clip 1
Hear the K-Station here. Hear its on-board arpeggiator, followed by an FM ringing bell-type sound, followed by some vocoder examples and some Juno pads.
Specifications
Polyphony -
16 voices, 4-Part multitimbral
Oscillators -
3 osc with Square / Saw / Variable Pulse / Tri / Sine / Double Saw / Double Tri / Double Sine waveforms. Osc 1-2 sync, FM, Ring Mod, Noise and external audio in (mono).
LFO -
2 LFOs: sine, triangle, saw, square, sample-and-hold, panning, with speed and delay parameters. Cyclic or 1-shot.
Filter -
low/high/band, 12/24 dB switchable
Envelopes -
ADSR envelope generators
Keyboard -
49-note (KS4) and 61-note (KS5), both with velocity, sensitivity and aftertouch.
Effects -
6 simultaneous FX per program: Reverb, Distortion plus tempo-locked Chorus, Phaser, Delay, Panner & Enveloped Filter with EQ, 12-band Vocoder
Arpeggiator -
4 independent in multi mode; up, down, random, chord modes; 32 preset patterns; range and latch mode saved per program.
Memory -
200 preset programs, 50 preset performances, 100 drum sounds; 200 user programs, 100 user drum programs, 50 user performances.
Control -
MIDI IN/OUT/THRU
Resources
Images from Novation
Reviewed December 2007.