The Micron is like an Ion packed into a compact 3-octave keyboard for the "on-the-go" musician. The Micron boasts the same analog modeling sound engine as the acclaimed Alesis Ion, offering breakthrough analog realism, high-resolution control, and tremendous value. The Micron is compatible with Ion programs and holds over 1,000 programs and multitimbral setups. It's therefor best used as a preset type synthesizer - either download your own Ion patches or others into the Micron and take them on the go. Sure the Ion is a hands-on synth programmer's feast, but the Micron gives you access to the same power as the Ion in a compact synth ideal for gigging, practicing, composing and just good old fashion playing around with!
Most obviously, the Micron has done away with just about all the real-time controllers found on the Ion, offering just three 360-degree endless parameter knobs, two assignable modulation sliders and one assignable backlit pitch wheel. Slim pickin's but enough for live performances (you only have two hands!) or quick tweaks. Sure you can delve deeper into patch editing and even the extensive twelve-route modulation matrix (with 114 sources and 78 destinations) but that's tedious with so few controls.
Despite its rather simple looking design, the Micron does house a beast inside - full of programmable functions! Just like the Ion, the Micron offers continuously variable wave shapes, plus osc-sync and FM synthesis. The Micron has 8-voice polyphony with three oscillators per voice, and is up to 8-part multitimbral. There are two multimode filters with 20 filter types (upgraded from 16 in the Ion), three envelope generators and two LFOs with multiple wave shapes and sample & hold. In addition to its powerful modulation matrix, the Micron offers a programmable step sequencer, an arpeggiator, a rhythm sequencer for drum kits, and a dynamic realtime phrase sequencer - all of which sync to MIDI clock. Effects include a 40 band vocoder that does not use up any polyphony, 4 insert effects, and stereo master effects. Stereo inputs let you process external audio through its effects, filters and vocoder - just as you can with the Ion.
So, if twiddling knobs all day is not your thing, but the sounds that come from such efforts are what you are looking for then the Micron may be the synth for you! Instant access to thousands of incredibly realistic analog synth sounds with all the power and programmability of the Ion. The Micron offers all that and more but for less money because of its minimalist design/interface.
Update: The original red Micron had eight voices and four parts. The updated blue Micron SE came out a year later with eight voices and eight parts. Then sometime later Alesis released a new firmware v.1.1.0, which gave any Micron eight parts.
Demos & Media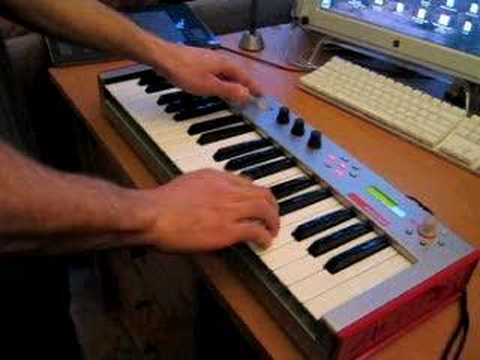 Alesis Micron Jam 1: Sunset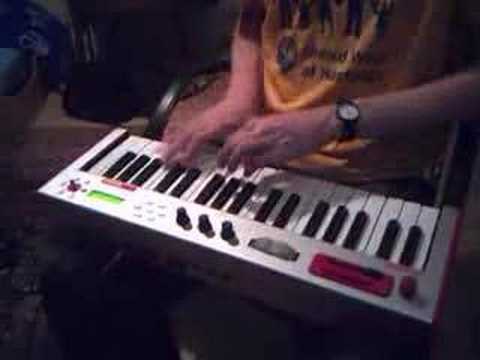 Really impressive playing of the Micron, sounds like a guitar player!
Specifications
Polyphony -
8 voices (up to 8 multitimbral parts)
Oscillators -
Alesis proprietary DSP Analog Modeling: Three oscillators per voice, with continuously variable wave shapes (Sine, Square-Pulse, Saw-Triangle), sync and FM
Filter -
2 multi-mode filters with 20 classic and unique filter types.
Envelopes -
3 EGs: Pitch/Mod, Filter, and the Amp have their own ADSR envelopes.
LFO -
2 multi-wave LFOs and 1 S&H. Ring Modulator. FM. hard&soft OSC sync.
Effects -
One insert drive effect per voice, Two master effects processors, with reverb and delay. Built-in 40-band Vocoder.
Keyboard -
37 keys (velocity, release velocity sensitive).
Memory -
1,000 Programs (500 preset programs, with space for 400 more) fully compatible with Ion programs.
Over 200 preset pattern sequences and 250 preset drum rhythms, with space for hundreds more.
Arpeg/Seq -
Arpeggiator: MIDI-sync-able multiple-pattern plus *random* feature.
Sequencers: Programmable step pattern sequencer; Dynamic real-time phrase sequencer; Drum Rhythm Sequencer.
Real-Time Controllers -
3 360-degree endless parameter knobs, 2 assignable modulation sliders, assignable backlit pitch wheel.
Control -
MIDI (4-part multitimbral) IN/OUT/THRU
Resources
Images from Alesis.
Additional info provided by Adam Lundberg.
Reviewed December 2007.