Imagine taking the powerful Virus TI, one of the best hardware DSP powered virtual analog synths in the market, and scaling it down to a small desktop module and slashing its price tag by $1,000. That is exactly what the Virus TI Snow does. German synth makers Access have taken their flagship Virus TI, drastically reduced the front panel controls, reduced DSP processing power just a bit, brought multitimbral performance down to 4-parts from 16 and polyphony is reduced from 80 voices down to 50 voices, but left the underlying synthesizer engine untouched. The TI Snow thus bridges the price gap, giving users the power and flexibility of a Virus TI, in a compact and more affordable desktop sound module.
The TI Snow has the same synthesizer engine found in the rest of the TI series. In a nutshell, this includes three oscillators with one sub oscillator per voice, a wide collection of waveforms including the classic Virus virtual analog models, the massive HyperSaw, Wavetable, Graintable, and Formant waveforms. Two multi-mode filters (HP, LP, BP, BS) and an Analog Filter mode modeled after the Moog cascade filter with 6 to 24 dB/oct slopes. A modulation matrix with 6 sources and 3 destinations each (18 routings total). Three LFOs and two very fast ADSTR envelope generators. A fully featured 32-step arpeggiator for creating really nice and musical arpeggiated patterns. A complete effects section with 129 parallel effects. And finally, the Atomizer beat slicer-n-dicer.
All parameters are controlled from three knobs located below the white LCD display screen. They can be assigned to a parameter from the rows of buttons on the right which also double as patch select buttons. Even though the TI Snow has eliminated almost all on-board knobs in order to slim it down, the Snow is still just as flexible and programmable as the original...albeit, there will be a lot of menu diving to get to the desired parameters. Fortunately the TI system has the VIRUSControl plug-in software that will give you in-depth graphical access to all parameters when connected to a computer. This is the exact same control plug-in software used by the rest of the TI series and is really the key to blowing any limitations of the Snow's hardware interface out of the water.
The Total Integration system allows you to plug your Virus TI Snow into your computer via the USB port located on the back. Once it's hooked up to your computer you can access the Virus TI from your DAW where it will appear as a VST/AU plug-in (certified hosts: Apple Logic, Steinberg Cubase, Ableton Live, Avid Pro Tools, Cakewalk Sonar and ImageLine FL Studio). This brings the TI into your computer based music studio with plug-and-play ease where you can use the TI Snow as it was clearly intended - as a sound module. You can easily use the VIRUSControl plug-in to quickly browse patches, make in-depth program tweaks, or use the hardware itself for basic tweaks or if you want to play/record any real-time control changes via the three main knobs. You can even assign your Virus TI Snow as your computer's sound card which will route all of your DAWs audio out the Snow's stereo outputs and you can use its stereo inputs to bring sounds into your DAW. In other words, a laptop, a certified DAW, the Virus TI Snow and a small keyboard controller could be all you need for a complete music workstation!
Continuously updated versions of the OS that can be downloaded and installed into the Virus TI series ensure that this hardware synth will always have the most sophisticated software under its hood. If you've ever wanted to get yourself a Virus TI and can sacrifice hands-on controls or have been out-priced by previous models so far, the Virus TI Snow may be the the right choice for you.
Demos & Media
Access Virus TI Snow Reviewed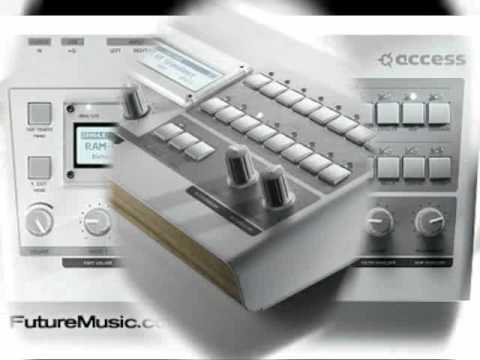 Access Virus Snow Sound Demo Part 1
Specifications
Polyphony -
Between 10 to 50 voices, depending on the complexity of the patch
Oscillators -
3 oscillators with one sub oscillator per voice
Waveforms -
Traditional VA, Wavetable, Graintable, HyperSaw, and Formant
LFO -
3 LFOs with 68 waveforms
Filter -
2 multi-mode filters (lowpass, highpass, bandpass, bandstop) with an optional saturation module and an Analog Filter modeled after the Moog cascade filter with 6 to 24 dB/oct slopes
Envelope -
2 ADSTR envelopes
Effects -
129 parallel effects: delay, reverb, distortion/lo-fi algorithms, phaser, chorus/flanger, character control, ring modulator/shifter, EQ, vocoder
Arpeggiator -
32 steps with global control for swing/shuffle and note lengths
Memory -
512 RAM and 512 ROM patches
Control -
MIDI In/Out and USB