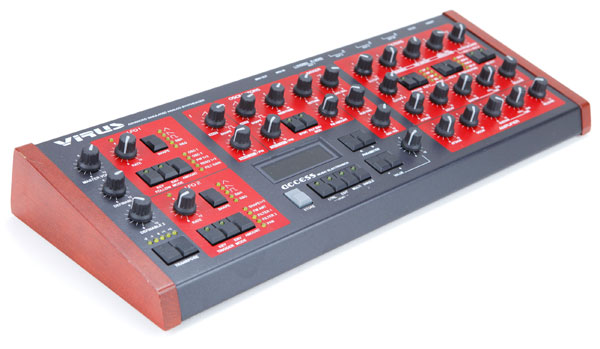 The Access Virus is a very cool, German made desktop synth-module. It quickly became a very popular and favorite synth with its aggressive analog sounds. It's got knobs, analog synth sounds and drums and a whole lot more! The Virus uses physical-modeling to digitally re-create analog sounds. German precision got it right! The Virus has an incredibly punchy and clean analog sound that can give you anything from low sub-woofer blowing basses to overdriven 303-style lead lines! The module is layed out with a very intuitive design that even old-school synthesists will feel right at home with. It has 32 knobs and 27 buttons, all of which allow tweaking in realtime. With 12 note polyphony and 16 multitimbral parts, the Virus is all you need to create complete and vibrant electronic music tracks!

With basic analog waveforms, from sawtooth to pulse with PWM, dual oscillators and filters, two LFO's with sample-and-hold and on-board arpeggiators, you'll find yourself in vintage synth heaven. The Virus can make convincing TB-303, SH-101 and other great bass/lead sounds, as well as a host of analog drum and percussion sounds. You'll also find an advanced ADSTR envelope, effects like chorus, flange, delays, and a very nice Vocoder! Every parameter is MIDI controllable making this a great tool for use in the studio.
In 1999, Access released a next generation model which they called the Virus B (making the original sometimes referred to as the Virus A). Following that came the KB (keyboard version), Indigo (Roadster version) and Rack (rack-mountable sound-module version). In 2002, an even more advanced C series was released including the Virus C, KC, Indigo 2, and Rack XL. A slightly 'hot-rodded' form of the original Virus A was also released in 2000 as the Digidesign Virus TDM plug-in for Pro Tools users, followed in 2002 by an Indigo TDM version. Viruses have been used by Astral Projection, BT, Überzone, The Crystal Method, Cosmosis, and Nine Inch Nails.
Click here for a PDF comparison chart between all Virus products from 1997 through 2002.
Demos & Media
Audio Clip 1
Virus: Hear the on-board demo song from the original Virus! Killer analog synth sounds from a digital instrument!
Specifications
Oscillators -
2 Osc per voice plus 1 Sub-Osc: Sine, tri, saw, variable width pulse, oscillator sync. 1 FM Mode: 64 digital FM spectral waveforms.
LFO -
2 per voice with tri, saw down, square, sample/hold, sample/glide and more
Filter -
2 independent resonant filters; lowpass, hipass, bandpass, band reject, parallel, split & 2 serial modes with up to 36dB/voice (6-poles), overdrive/saturation.
VCA -
2 ADSTR envelopes per voice
ModMatrix -
3 Sources, 6 Destinations
Effects -
Up to 22 simultaneous effects: 4 Chorus effects, Global Reverb/Delay, Vocoder
Memory -
256 ROM patches, 256 RAM patches, 128 multi RAM patches
Control -
MIDI (16 multitimbral parts)
Date Produced -
1997 - 1999