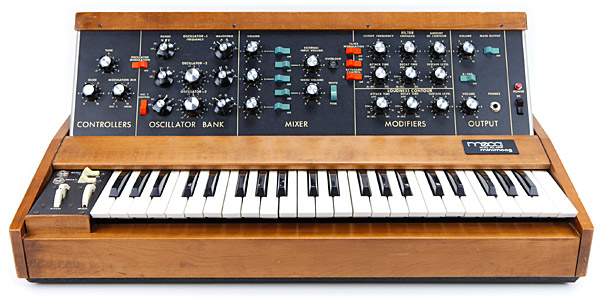 Historically, the Minimoog is considered the very first synthesizer for musicians! Compact, affordable, simplified and based on the megalithic modular Moog synths, the Minimoog became the most popular synth of all time, and still is to this day! Prior to the Minimoog, synthesizers were custom built to order, and required a great deal of technical knowledge to be able to wire up and create a sound. The Minimoog changed all that by hard-wiring the most basic but essential of components into a compact keyboard any musician could not only play, but dial up some great sounds on! Thus, the Minimoog was the first synthesizer to show up on the shelves of music stores around the world.
Though its design impacted the industry in a way that set the stage for all the synthesizers that came after it, the Minimoog is probably most famous for its excellent analog sound and arguably the best filters in a portable synth. It featured three oscillators (one of which can be used as an LFO) that could be individually tuned and offered multiple waveforms. The Minimoog is monophonic (only one note can be played at a time) so the three oscillators allow for an incredibly rich sound - three de-tuned oscillators each playing a different waveform can create some pretty thick analog sounds! There are also some very cool modulation possibilities when using one of the oscillators as an LFO.
But you can't talk about the Minimoog without mentioning its filters. The Minimoog uses a 4-pole (24 dB/oct) low-pass filter with cutoff, resonance, ADS envelope, and keyboard tracking controls. Amazingly, Dr. Moog's filter design has yet to be surpassed by a better sounding filter. It's a filter that sounds so warm and smooth that Moog's rival, ARP, tried to copy it for their 2600 and Odyssey synths.
The Minimoog's internal wiring configuration and front panel layout has defined the general synthesizer configuration for decades. Every adjustable parameter is so clearly laid out on the front panel that the Minimoog makes a great teaching tool for anyone interested in classic subtractive synthesis. It even has a built-in A-440 tone generator so you can manually tune the oscillators-which is nice since (like mosts analog synths that heat up) the tuning of even this machine can be a little bit unstable. Though input jacks allow you to run your own external audio through the Minimoog's filters, modulation and amplifier circuits too!

The Minimoog is responsible for some of the warmest and best analog synth bass, lead and whistle sounds ever. Its control panel can lay flat or propped up perpendicular to the keyboard. It also has a great wood casing. Very rugged. A very versatile synth, useful in all styles of music and easy enough for anybody to operate! It is used by The Chemical Brothers, The Orb, Kraftwerk, Jan Hammer, Nine Inch Nails, Vince Clarke, Gary Numan, Add N To (X), Rick Wakeman, 808 State, Air, Future Sound of London, Bushflange, Chick Corea, Überzone, Depeche Mode, Recoil, Tangerine Dream, Mouse on Mars, Apollo 440, Ultravox, Dave Holmes, Jean-Michel Jarre, George Duke, Blondie, Rush, Toto, Jimmy Edgar, Keith Emerson, Yes, Vangelis, Pink Floyd, Joe Zawinul and Herbie Hancock.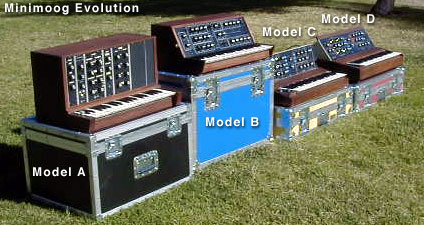 Evolution of the Minimoog: (pictured above from The Audities Foundation).
Model-A Prototype - Built in 1969. This version more closely resembles the modular Moog's but in a very compact form. In its wood case, six Moog designed modules were internally hard-wired together and connected to a small keyboard. Many labels were typed out on paper and taped on to the front panel above the knobs.
Model-B Prototype - Built in 1970. In this version, the modular look was eliminated as the components were brought together by a pupose built front panel lay out. The three identical VCO sections were stacked on top of each other on the left. The right side held the Amplitude and Filter contour controls. The middle section held the Noise, Filter (cutoff, res) and master tuning controls. There was even a power switch on the front.
Model-C Prototype - Built in 1970. This version really begins to look like a Minimoog. The familiar left-to-right layout of Controllers, Oscillator Bank, Mixer, Modifiers and Output sections and the signature pop-up front panel had come to exist. The Model-C was photographed for the original Sales Flyer introducing the Minimoog, although in that flyer it was referred to as the Model-D.
Model-D Prototype - Built in 1970 almost immediately after the Model-C. A few more cosmetic tweaks to the front panel design brought about the last few final touches before readying for commercial production of the official Model-D.
Model-D - Built in 1971. A few more design tweaks (like adding some red rocker-switches and proper pitch-bend and mod wheels) and the Model-D was the Minimoog sold to the public. Interestingly, there are three versions of the Model-D, with some very minor and mainly cosmetic variations to each. Fortunately they can be distinguished from their name-plates.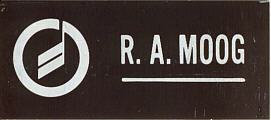 The very first batch of Minimoogs made in 1971 (a few dozen) were labelled 'R.A. Moog' (as in, Robert Arthur Moog).

Then there was a very short period during 1972 in which Moog Music, which had just merged with the smaller muSonics company, saw the production of a scant handful of "Moog muSonics" Minimoogs.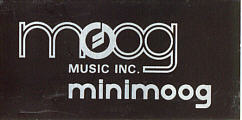 Then from 1972-1981 came the Moog Music, Inc. labelled Minimoogs which make up the majority of Minis that are out there. While there seems to be no difference sonically between the Moog muSonics and Moog Music versions, the original R.A. Moog Minis do have a slightly different--to some ears--warmer sound.
The Model-D Minimoog has been (unoficially) reissued several times during the late 1990's by businesses that often failed, quite rapidly. Finally, it was successfully and faithfully reproduced by Moog Synthesizers in the UK, with MIDI and other updated features. But it wasn't until 2002 that the first official new Minimoog designed by Dr. Robert Moog himself was released by Moog Music (once Big Briar) in the form of the ultimate Minimoog - the Minimoog Voyager.
Hardware/Software Alternatives:
Studio Electronics Midimoog - An analog recreation of the original Minimoog with an authentic Minimoog Model-D board inside a rack-mount design, with MIDI and a dedicated LFO.
Studio Electronics SE-1 - A more advanced and flexible rack-mount synth but like the Midimoog, it has an authentic Model-D board inside too.
Steinberg's Model-E is an amazing VST Plug-In that is modeled after the Model-D Minimoog.
Arturia's Minimoog V - THE most amazing, authentic, and realistic software synth plug-in modeled after the Minimoog, with major enhancements including stereo and polyphonic voices, advanced modulation abilities, MIDI/Tempo sync, patch memory, total recall, controller automation, and much more - all for less than $200!
Demos & Media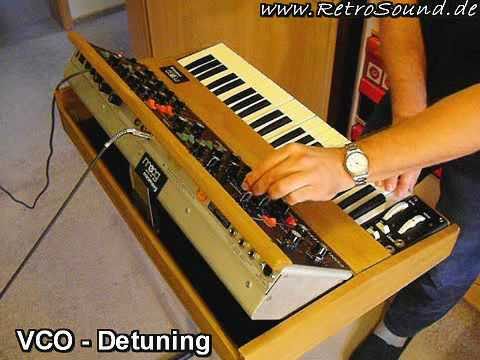 Moog Minimoog Analog Synthesizer (1970) "Mini Basics"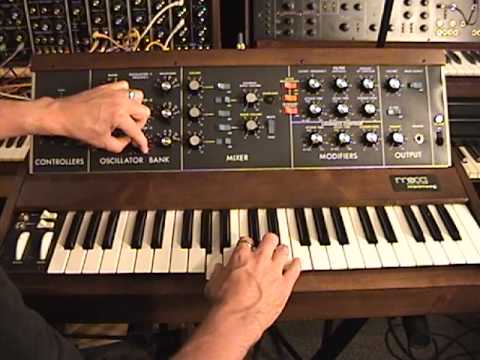 Demonstration of the Moog Minimoog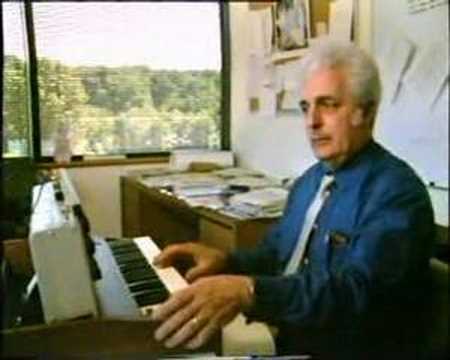 Dr. Bob Moog demonstrates the Minimoog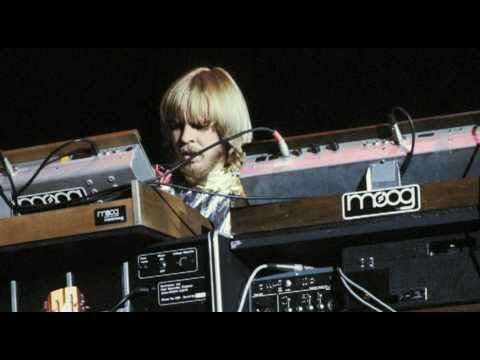 History of the Minimoog Synthesizer
Audio Clip 1
Here are some demo filtered bass sounds and patterns from the Future Music CD, issue 73.
Specifications
Filter -
24dB/oct, 4-pole lowpass filter with cutoff, resonance, envelope generator, keyboard tracking
VCA -
ADS Envelope generator
Keyboard -
44 keys, single-trigger, low-note priority
Date Produced -
1970 - 1982