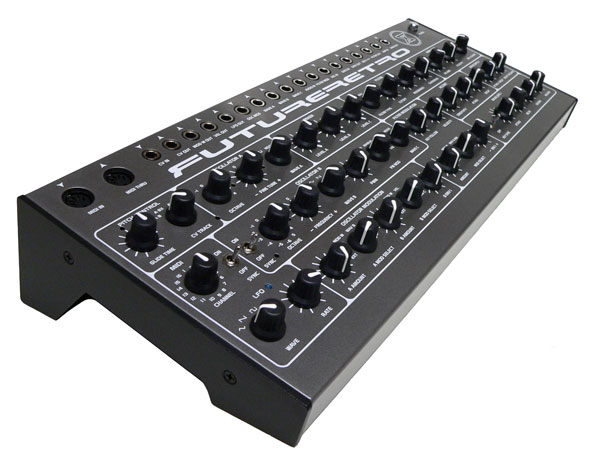 The Future Retro XS is a true analog synthesizer with a modern, aggressive sound. Its compact form can be configured as a desktop or rack-mount module - whichever the user wants. The XS is monophonic with semi-modular characteristics. It has 46 controls on its surface, 43 of which are knobs for full knob-tweaking bliss. It has pre-wired internal signal routings similar to traditional synthesizers. However, there are 7 inputs and 11 outputs that can be utilized to override the pre-wired signal routings and interface with other instruments - even process external audio - making the XS a true semi-modular instrument.
The XS has 2 voltage controlled oscillators that can be frequency modulated independently by internal and external signals for complex waveforms. A dedicated LFO can be used to modulate external or internal signals. The 2-pole multimode filter can be used as a lowpass, bandpass, highpass, or notch filter and is capable of self-oscillation. Velocity-sensitive ADSR envelopes can be used to alter filter and amp.
Both MIDI and CV/Gate can be used separately or together to control signals in a variety of configurations. It can also act as a CV/Gate to MIDI converter, including CV/Gate/Mod Wheel/Velocity signals for controlling other analog instruments.
The XS can be used to make a variety of analog synth sounds including basslines, leads, drones, percussion, and sound effects. Although the XS is monophonic, multiple units can be linked together for more flexible and polyphonic possibilities. And like any true analog synth, there is no on-board memory, no effects processors, and sequencing/arpeggiation features are handled via external controllers (such as Future Retro's Revolution).
Demos & Media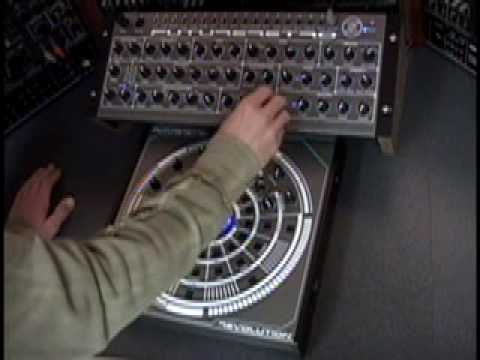 FutureRetro XS Synthesizer Part 1
Specifications
Waveforms -
Sine, Triangle, Saw, Square/Pulse, Noise
LFO -
Triangle, Saw, Square, Random
Filter -
12dB Lowpass, Bandpass, Highpass, Notch
Control -
MIDI In/Thru, CV/Gate
Date Produced -
2007-Present