The Analog Tone Chameleon ATC-1 uses external cartridges for convincing recreation of classic synthesizers and sounds. In fact, the ATC-1 is analog, through and through! It's highly and easily editable, but a bit ugly. It has two LFO's and three envelopes. The filters, however, are on external inter-changeable cartridges. The ATC-1 usually ships with the Minimoog filter cartridge. It sounds pretty convincing too. There are also filters of the Roland TB-303, ARP 2600 and Oberheim SEM each of which cost about $150. With all that analog circuitry they all sound incredible.
There are three envelopes to control VCF, resonance, VCA, OSC2 freq, OSC2 level, pulse width, LFO depth, rate and amount. And there are two great LFOs that will modulate the pitch, VCF freq, resonance, OSC1, OSC2, pulse width, noise and main volume.
Programming the ATC-1 is also vintage in its design and layout. There is one data knob to which you must assign a parameter for editing. An annoying method that reminds many of the old Moog Source or Alpha Juno synths. This limitation in the 'hands-on' approach to sound editing is OK for studio work, but makes live performance use difficult. The ATC-1 is well equipped with MIDI and CV / Gate ports. There is also an external audio input to the VCF (filter). In all the ATC-1 is a state of the art synthesizer with a simple goal, emulating the classics while offering current specs for MIDI, memory and extensive edit-ability in an expandable, compact and intuitive machine. It is used by Fatboy Slim.
Demos & Media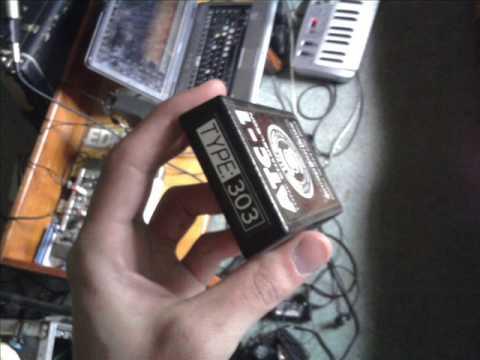 studio electronics 303 filter atc1 demo
Audio Clip 1
This is a seven-track song by Jon Bates of Future Music Magazine.
Audio Clip 2
Various samples from the Future Music CD, issue 51.
Specifications
Oscillators -
2 VCOs: triangle, sawtooth and variable width square; Osc sync; white noise gen.
LFO -
2 LFOs. Waveforms: triangle, sawtooth, reverse sawtooth, square, noise, random. Sample & Hold
Filter -
External cartridge VCF: Moog, S.E.M., 303, and 2600. External audio input
VCA -
3 ADSRs: one for VCA, one for VCF and third to modulate other parameters
Control -
MIDI, CV / GATE