Moog's Source was their first to offer patch memory storage as well as some other new features. It boasted 16 memory locations so you could finally save and recall your synth patches. A casette-tape jack was also implemented to transfer your patches to and from an external tape and free up the on-board memory for additional new patches. But in an effort to modernize with the eighties, the Moog had replaced all buttons, knobs and sliders with flat-panel membrane buttons and a single data-wheel assignment format. At the time, this may have seemed far-out, but in all actuality it is the Source's downfall.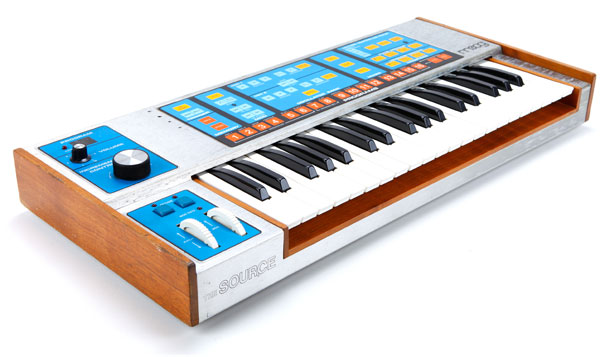 Parameters are edited not with hands-on sliders and knobs but by assigning a selected parameter to the dedicated data wheel. This is very tedious and does not allow for true hands-on tweaking during performances nor can you adjust different parameters simultaneously or while playing. These days, the membrane buttons don't always seem to work quite right either. However, those famous monophonic Moog sounds are still inside this synth which has two fat analog oscillators and the legendary 24 dB Moog filter.

The Source has been used by Tangerine Dream, Jan Hammer, Depeche Mode, Devo, Vince Clarke, New Order, Ultravox, Josh Wink, Front Line Assembly, Moog Cookbook, Kitaro, Imperial Drag, The Cars, Phish, The Rentals, King Crimson, Blur, and Gary Numan.
Demos & Media
Moog Source Analog Synthesizer (1981)
Specifications
Oscillators -
2 VCO's + Noise Gen. with ramp, triangle, variable width pulse waveforms
Memory -
16 patches (plus casette-tape save/load)
Filter -
cutoff, res, ADSR env