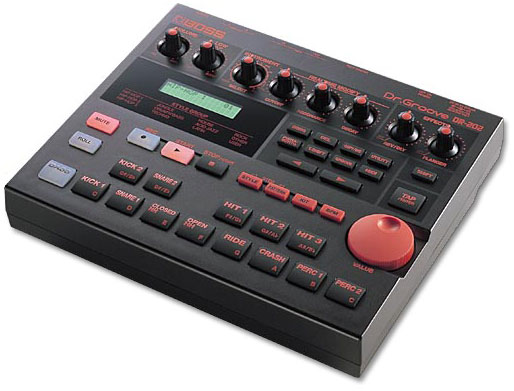 The DR-202 from BOSS is a compact programmable rhythm/drum machine from the Groove Zone. It features 256 drum and bass sounds (207 drum, 49 bass) arranged into 128 kits exclusively developed for groove music production--from hip-hop to jungle, drum 'n' bass, trip hop, house, Latin and more. Classic TR-808, TR-909 and TB-303 sounds, vinyl sounds, Lo-Fi drum samples, various synth basses, sound effects and more can be found inside. Its authentic groove music patterns can be used "as is" or broken down into User patterns. It's compact, easy to use and can run on batteries or AC power.
Included are 400 authentic groove patterns organized into categories like "Old School," "Slow Tempo," "Medium Tempo," "New Jack," "Trip Hop," "Jazzy," "Abstract," "East Coast," and "West Coast"--each with many variations. There are on-board realtime control knobs for adjusting cutoff, resonance and decay parameters (for instant tweaking of individual instrument sounds); reverb and delay effects; Tap Tempo control for realtime BPM adjustment and 13 pads for triggering sounds from any of its 128 kits. The way the pads are laid out gives you 2 kicks, 2 snares, 2 hi hats (one open, one closed), a ride, a crash, 2 percussion, and 3 hit pads. Each pad also has a separate send to the effects which is nice but the effects can also be applied to all the drums at once.
A 3-track sequencer (which offers a 13-part drum track and a dedicated bass track) lets you build a rhythm from scratch in either step or live edit modes. Up to 20 complete songs can be stored in the DR-202's internal memory. There's even an external source track for triggering external MIDI gear like samplers and other instruments. It doesn't have a backlit display so it may be hard to read on stage.
Aimed straight at dance music producers and DJs, the DR-202 is a cheap but awesome little tool for sketching drum & bass patterns, accompanying DJ sets or building up your music tracks. This is one drum machine not designed for guitarists or drummers to play along with - it's a full fledged Groove Machine for the budget conscious bedroom producer or DJ on the go!
Demos & Media
Audio Clip 1
Demos of various beats and grooves. From Future Music CD issue 78.
Specifications
Oscillators -
256 Drum and Bass samples
Sequencer -
3-track sequencer: rhythm track, bass track, external source track for sampler or other MIDI device. 14,000 of note storage
Effects -
Reverb (8 types)/ Delay (2 types), Flanger (4 types)
Memory -
128 Preset drum kits, 400 Preset patterns, 64 User drum kits, 100 User patterns, 20 Songs
Keyboard -
13 drum and bass pads
Date Produced -
2000 - 2002