The SU10 is a very compact and portable sampler and sequencer. Best suited for the on-the-go musician it ultimately is a note-pad for musical ideas. It has a maximum of 4 simultaneous samples polyphony, 11.64 to 44.1 sampling rates, 54 to 19 seconds of sampling time (respectively), stereo input/output (using one-eighth inch mini stereo plugs), 4 songs with up to 100 events in each and a maximum of 48 samples can be stored. The 12 key-pads are not only used for editing and programming, but also for triggering samples stored within any of the four banks (bank a, b, c or d).
For professional use these specs are just not good enough. Its overall sound quality is questionable. However it features some pretty cool tricks that may interest DJ's: a ribbon controller that can be used to filter the samples cutoff, alter pitch, reverse, scale, crossfade, hold and scratch samples. It features a VCF type filter with 3 resonant settings and a bandpass, highpass, or lowpass shape. It can even be used to filter an external sound source. Unfortunately the filter is 'sketchy' and prone to crackles, distortion and noise. Filtering external sounds have extremely low output too.
The SU10 won't replace your real sampler nor should it be considered a professional sampler but it does have its place. If you can handle the limited sampling specs and very poor filter then the SU10 can still provide you with hours of fun and entertainment, but that's about it. It has been used by Jimi Tenor, Autechre, and Scanner.
Demos & Media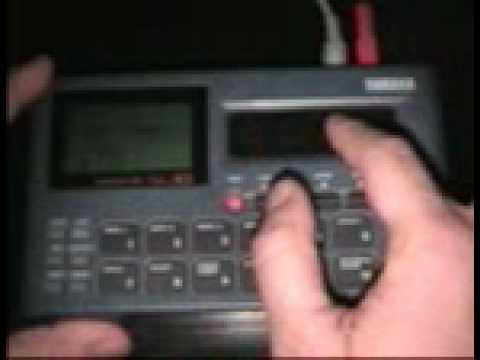 Specifications
Polyphony -
4 simultaneous samples max (in mono)
Sampler -
11.64KHz to 44.1KHz (19 to 54 seconds)
Filter -
Digital Hi / low / band pass resonant filter