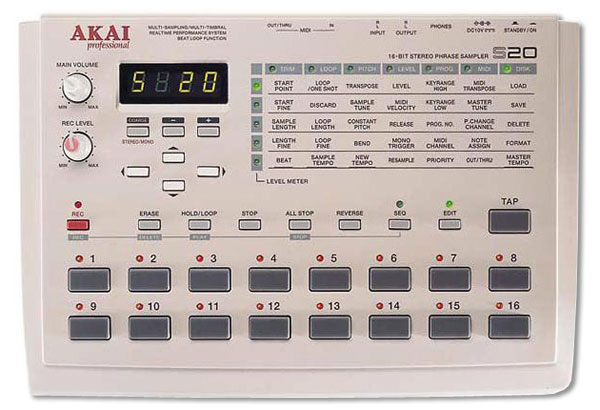 Akai's S20 Stereo Phrase Sampler starts out looking like a table-top version of the lackluster S01. Major improvements include STEREO input and outputs and far greater memory expansion (up to 17 MB) and of course, the sequencer. The standard 1 MB can sample between 7 to 56 seconds. Upgrading to 17 MB lets you sample from 131 seconds (Stereo 32kHz) to 1048 seconds (Mono 8kHz)! The S20 is a budget desktop phrase sampler targeted towards DJs and home project studios; and the S20 offers excellent value for the price.
An onboard 3.5 inch high density floppy disk drive allows for samples to be interchanged with higher-end Akai samplers or loaded onto a computer for further editing. There are some caveats, however, and these include absolutely no onboard effects whatsoever and a rather poor built-in sequencer. It is also worth noting that the unit uses RCA jacks instead of 1/4 inch stereo plugs, which may be useful to some and irritating to others. Nonetheless, pair the S20 up with a decent sequencer and an outboard effects box or filter (if desired) and you've got a nice, cheap, and functional little sampler.
Demos & Media
Audio Clip 1
Demo track produced on the S20, from the Future Music CD, issue 56.
Specifications
Sampler -
16 bit, 32 kHz, 16 kHz, 8 kHz. 4th order delta/sigma 64 times oversampling.
Memory -
1MB memory (STEREO, MONO), expandable to 5MB or 17MB by 72-pin SIMM.
VCA -
level and release are controllable
Arpeg/Seq -
sequencer: 4 tracks, 30,000 notes
Control -
MIDI (16-channels, 2x IN, 1x OUT, 1x THRU)
Resources
Images from Akai Pro
Additional info provided by Sean Caron
Reviewed November 2007