An ancient synthesizer from Korg. Aside from being very old, there isn't much else to say about the 770. It was released in 1976, is monophonic, very limited in design, flexibility and sonic possibility. It can make some weird noises largely due to its retro-cool ring modulator. You can also run external sounds through it. Bass, string and lead sounds are ok. It's got a fast envelope, auto bend, and LFO re-trigger too. An ole' classic that's fun to play with and useful if you're in the mood for buzzy analog sounds. It is used by Freddy Fresh, Simple Minds and The Human League.
Demos & Media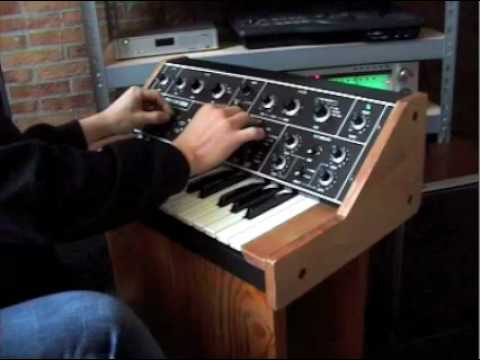 Specifications
Polyphony -
1 - Monophonic
Oscillators -
VCO-1: Scale (64', 32', 16', 8', 4', 2'), Waveform (triangle, square, sawtooth, pulse, PWM, External Signal).
VCO-2: Coarse Tuning (16'-1'), Fine Tuning, Mode Selector (sawtooth, Ring 1, 2, Scale Noise, Pink Noise, White Noise).
LFO -
2 (LFO2 is called VCO Vibrato)
Filter -
(2) VCF's: High Pass and Low Pass (Traveler).
VCA -
VCA + ENVELOPE GENERATOR: Attack Time, Singing Level, Range Selector, Sustain Selector, Envelope Mode Selector, Trigger Mode Selector
Control -
VCF foot pedal; CV/Gate mods can be added; Mouth/Breath Controller
Resources
Images from Korg Electronic Music Instruments Vol. 5 (catalog).
Thanks to Mark Strijbos for providing some information.