The Korg M50 was unveiled shortly after the release of their popular M3 and in many aspects it is just a stripped-down version of the M3. While it makes use of the exact same EDS sound system as that of the M3, it has a few more limitations. Some of these, such as the Karma engine, could still be bought separately and used with the M50 when installed on a computer. However, the M3 also features no sampling capabilities, has less polyphone than the M3, and doesn't have any support for expansion cards.

When the M3 was released there were already questions whether or not a workstation still had any use in studios that have become increasingly computer based. However, it still managed to win most people over and the M50 is able to deliver similar results, but at a much lower price tag. The M50 is not the most durable looking piece of hardware on the market, so care must be taken with its plastic shell. However, it does make the M50 very lightweight and it resembles the M1 more than the M3 did.

On the rear of the M50 you will find an external power supply, the audio outputs, phones jack, jacks for connecting pedals, as well as MIDI In and Out. One thing that you will notice right away is that the M50 does not have Midi Thru. On the rear you will also find an SD card slot that can be used to save or load M50 programs or song data as well as a USB connector for transmitting and receiving MIDI data when connected to a computer.

On the front panel you will find a volume slider, two switches for controlling the programs or effect parameters as well as a joystick that can be used to control synthesis parameters or effects. Various other knobs, dials, buttons and switches are also located on the front panel. The most striking feature is the monochrome touchscreen. It is very bright and clear, but not quite as responsive as one would expect.

The M50 has a capable enough sequencer with 16 MIDI tracks and it offers up to 128 songs. You can cue up to 99 songs in a chain for live performances while the M50 is no slouch in the studio either. Unlike the KARMA 2 from the M3, the M50 has a dual polyphonic arpeggiator that has more in common with the Triton. However, as mentioned earlier, the KARMA software is still available for the M3 as an optional extra.

The M3 is really not a bad piece of hardware, but the lack of expansion options may cause some musicians to find it a bit limiting. It does however have more than enough features for anyone in search of a hardware workstation and makes for a versatile synth as well. The MIDI-only sequencer is another drawback, but in terms of price and features the M3 is ahead of the pack.
Demos & Media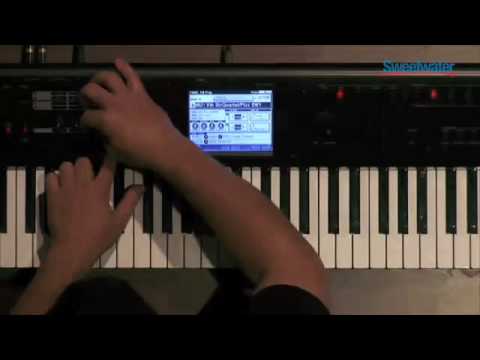 Korg M50 Workstation Demo
Specifications
Polyphony -
80 voice polyphony
Multitimbral -
Up to 16 timbres
Oscillators -
OSC1 (Single), OSC1+2 (Double)
Waveforms -
Triangle, Saw, Square, Sine, Guitar, Exponential Triangle, Exponential Saw Down, Exponential Saw Up, Step Triangle-4, Step Triangle-6, Step Saw 4, Step Saw 6, Random 1, Random 2, Random 3, Random 4, Random 5, Random 6
VCF -
Four types of filter routing (single, serial, parallel, 24 dB) Two multi-mode filters per voice (low pass, high pass, band pass, band reject)
LFO -
LFO1, LFO2, and Common LFO
Control -
MIDI In and Out
Sequencer -
16 MIDI track sequencer
Arpeggiator -
Dual polyphonic arpeggiators with up-down and random arpeggiation patterns
Patterns -
522 preset patterns, 100 user patterns (per Song)
Songs -
16 preset/16 user Template Songs
Effects -
Dynamics, EQ/Filter, Overdrive/Amp/Mic,Chorus/Flanger;Phaser, Delay, Reverb/ER, Mono-Mono Serial, Mono-Mono Parallel, Double Size,
Keyboard -
61 Key semi-weighted 'Natural Touch' keyboard version as well as 88 key real Weighted Hammer Action 3 version
Memory -
256MB of wave memory