Native Instruments Absynth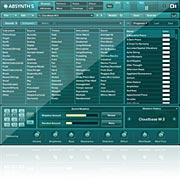 ABSYNTH is a wonderfully organic software synthesizer for Macintosh and Windows computers. It is a semi-modular synthesizer with the ability to layer multiple synthesis techniques for really unique textures, pads, tones, soundscapes, rhythmic effects and other synth sounds ranging from analog to digital. ABSYNTH was originally released in 2000 by Rhizomatic Software as an internet download. Native Instruments saw the potential for ABSYNTH and have taken it to new heights over the past decade!
The latest version, ABSYNTH 5, has an array of new features and effects (with more than just great names) including the Mutator, Aetherizer, Cloud Filter, Supercomb Filter, and Filter Feedback along with an expanded collection of preset sounds. Yet it still retains much of its older design aspects, such as the semi-modular approach, three independent oscillators with two filter / modulators per oscillator, multi-break-point envelopes and custom waveform editing. One very nice feature of this software synthesizer is that you can record short 3-minute audio files while in stand-alone mode. This is good for catching a quick idea or sound to file and later importing it into another program or even back into ABSYNTH.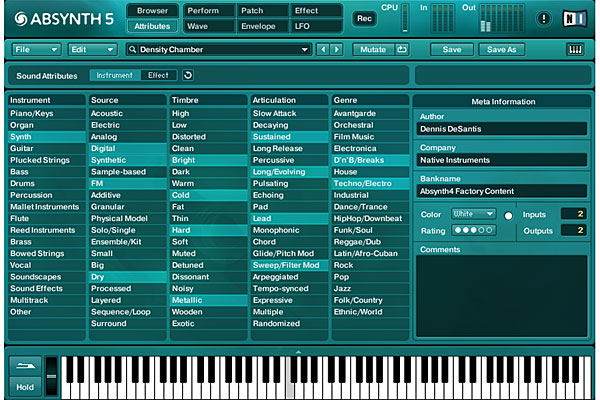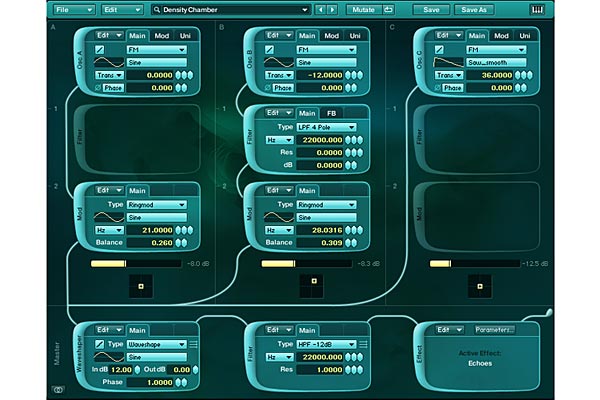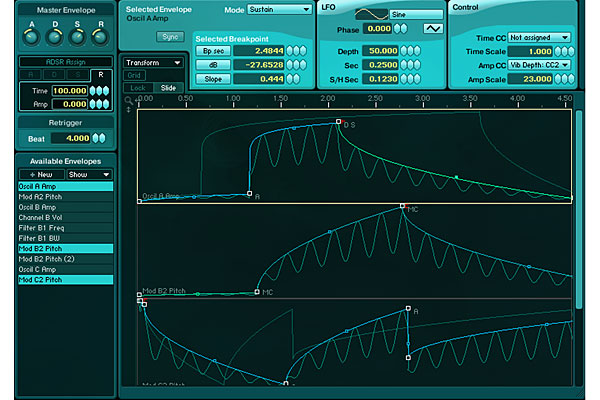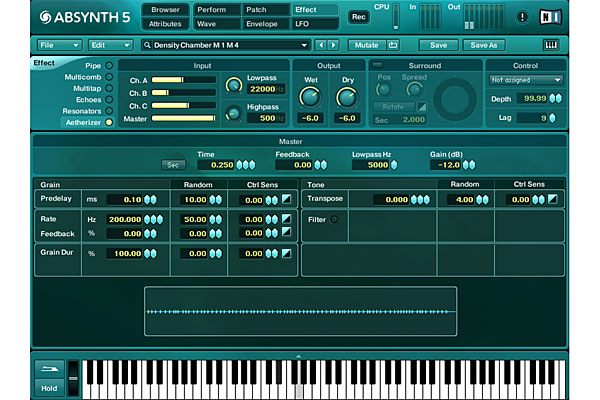 Upon program launch you are presented with ABSYNTH's sound library, which comes with over 1,700 sounds! Thankfully, they have provided a very good browser with categorical filters to narrow the program list down to help find what you may be looking for. Categories include instruments, sources, timbres, articulations and genres. Sounds from Absynth v3 and v4 are included too.
ABSYNTH offers several synthesis methods including subtractive synthesis, FM, wave-table, granular synthesis, ring-mod and sampling with wave-morphing via three independent oscillators. The oscillators each have nine different synthesis/sound sources to choose from (one being an external audio input). The oscillators each have their own modulation and pitch tune controls to further shape and morph your sound. Each oscillator is then followed by two Filter / Mod sections - you can assign two Filters, or 1 Filter + 1 Mod, or two Modulators to each oscillator, in any order. The Filters offer 16 different types of filter options (multiple Lowpass, Bandpass, Notch, Supercomb, Comb, Allpass, and Cloud) with Filter Feedback. The new Supercomb filter offers fine-adjustable resonance which allows for a much more accurate acoustic emulation of sounds. The Cloud Filter is like the Aetherizer effect, it's a grain-based filter/effect that can act on each individual oscillator. And the Filter Feedback allows for a self-oscillation type of effect. The Mod section offers three modulation options (Waveshape, Freq Shift, Ring Mod). After that, to further enhance that beautiful pad you are making, you can insert two more Master Filter / Mod sections plus a Master Effect into the chain.
Next is the Effects section. ABSYNTH allows you to assign one of six different effects including Pipe, Multicomb, Multitap, Echoes, Resonators, and Aetherizer. Each effect allows you to edit its amount, feedback, velocity, surround, and much more. This is where the new Aetherizer granular effect can be dialed up, allowing for the breakdown, manipulation and recombination of your sounds that result in extremely odd choruses, delays and even vocoder effects (and it can be applied to external audio too).
ABSYNTH offers a Waveform Editor where you can freely draw in your own waveforms and hear the results in real time. These waveforms can be used by the oscillators, LFOs, and in the Mod sections as waveshaping distortion functions. This is a truly unique feature to ABSYNTH among competing soft-synths. The Waveform Spectrum Editor allows you to trim individual harmonics for entirely new timbres. And waveforms can be Transformed using normalization, DC offset, phase inversion and offset, reverse, fractalize, filter, FM, and more. Custom waveforms can be saved to the Waves Library for use at any time and in any ABSYNTH program.
ABSYNTH has three discrete LFO's. Each of them can modulate pitch, amplitude, filter, FM depth, pan or delay time. There is also Sample and Hold for each LFO for that classic analog synth effect. The LFO's waveforms can be drawn and edited within the Waveform Editor. There are plenty of envelopes as well. The graphical Envelope editor allows you to see and edit your envelopes. They contain up to 68 breakpoints per envelope so your sound can drone out with multiple decays, attacks, sustains and other evolving or rhythmic dynamics. You can create dozens of envelopes and assign them to various modules and parameters. This allows you to easily and truly sculpt your sounds like never before! The Envelope Transform Generator allows you to build tempo driven arpeggiated and percussive rhythms using the envelopes. The envelopes can be used to shape the amplitude and/or the pitch, filters, or other synth parameters.
Another of the new features that ABSYNTH employs is the Mutator function. This allows you to easily mutate the sound into a completely different sound at the click of a single button. You can define the amount of mutation and how random you want it to get. It also has a Retry button, which will revert the sound back. It keeps a history of Mutations for you as well, so if you want to go back to a previous try, all you have to do is click on it. There is also a Master Finetuning section, which allows you to change the Volume, Pitch, Brightness, Bass, Resonance, Distortion, etc. so you can achieve the ultimate sound desired.
Overall, this is an extremely powerful software synthesizer - more like a musical sound designer than anything else - that is often used for luscious soundscapes and evolving pads, although ABSYNTH is quite capable of other synth and drum sounds as well. Practically all editable parameters can be controlled via mouse or MIDI CC# via 16 assignable Macro Controllers and one X-Y Panner. At home on both Mac and Windows systems running as a stand-alone, Audio Units, VST, RTAS, Core Audio, DirectSound and ASIO, ABSYNTH will easily and instantly integrate into any computer-based set-up.
Demos & Media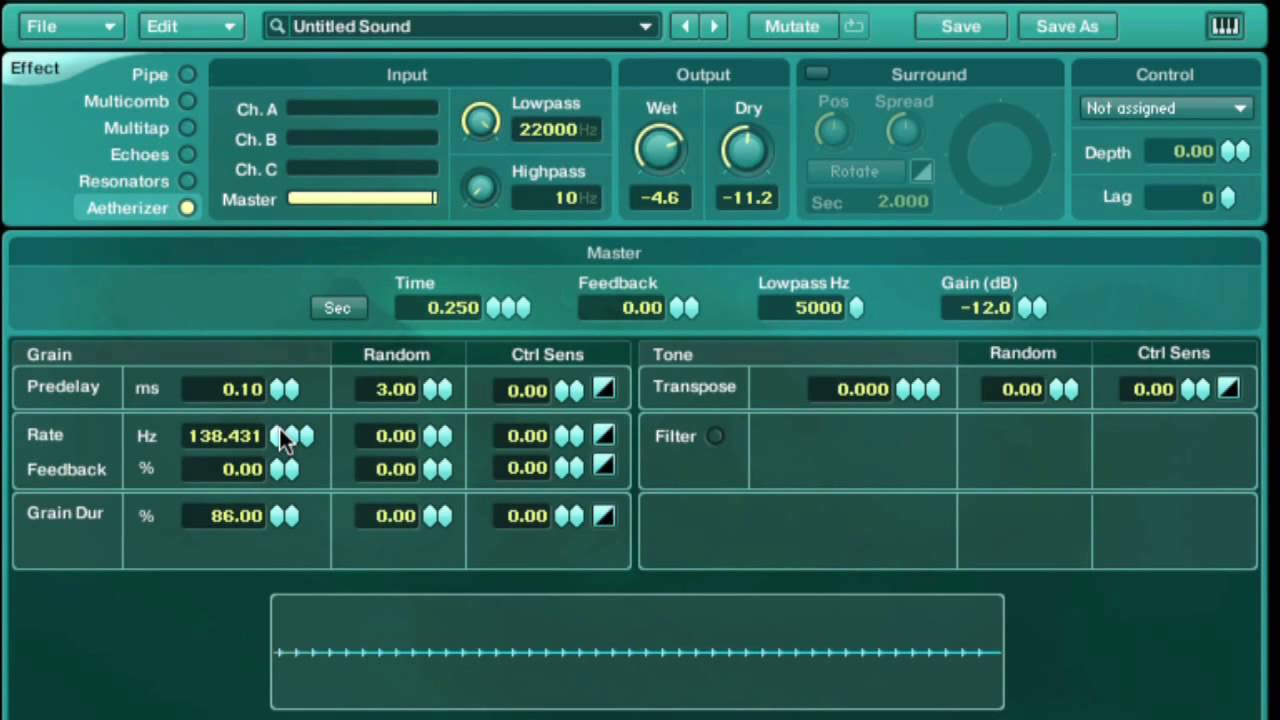 Audio Clip 1
Listen to two sample soundscapes created using ABSYNTH.
Audio Clip 2
A beautifully surreal soundscape created using ABSYNTH.
Audio Clip 3
A series of ABSYNTH sounds from Future Music CD, issue 118.
Specifications
Polyphony -
Limit depends on CPU power
Oscillators -
3 oscillators; Subtractive, FM synthesis, Ring Modulator, Fractalize, Granular, Sample-based, External Audio, WaveShaper; Freely drawable waveforms for oscillators
Waveforms -
100's of different waveforms (Simple waves, Morph waves, Custom Library waves)
LFO -
3 LFO's with 100's of different waveforms (Simple waves, Morph waves, Custom Library waves); Freely drawable waveforms for LFOs
Filter -
2 Filters per Oscillator, 2 Master Filters. Lowpass 2pole/4pole/8pole, Lowpass 6/12/24 dB/oct, Highpass 6/12 dB/oct, Allpass 2pole/4pole/8pole, Bandpass, Notch, Comb, SuperComb, Cloud
Envelope -
1 Master ADSR Envelope. Multiple custom 68 breakpoint envelopes assignable to various modules and parameters
Effects -
Pipe (reverb), Multicomb (reverb), Multitap (delay), Echoes (delay), Resonators, and Aetherizer
Arpeg/Seq -
None - but arpeggiated effects are possible via the Envelope Editor
Keyboard -
Virtual keyboard
Memory -
1800 KoreSounds, unlimited user memory
Control -
16 MIDI assign/learn Macro Controllers, 1 X-Y Panner
Macintosh Requirements -
Mac OS® X 10.5 or higher, Intel® Core™ Duo 1.66 GHz, 1 GB RAM. Stand-alone, Audio Units, VST, RTAS, Core Audio.
Windows Requirements -
Windows® XP (SP2, 32bit) / Vista® (32/64 Bit), Windows 7® (32/64 Bit), Pentium® or Athlon XP 1.4 GHz, 1 GB RAM. Stand-alone, VST, RTAS, DirectSound, ASIO
Date Produced -

2000 - v1 Rhizomatic Software
2001 - v1 Native Instruments
2003 - v2 Native Instruments
2004 - v3 Native Instruments
2007 - v4 Native Instruments
2009 - v5 Native Instruments