Sherman Electronics Quad Modular Filter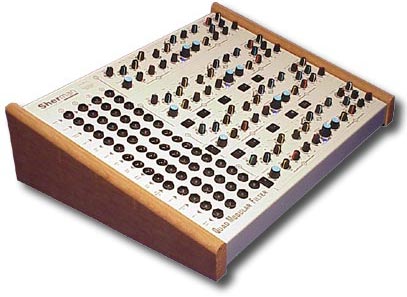 The Quad Modular Filter is a Limited edition machine, only 100 units world-wide. It's basically four Filterbanks in one sleek modular machine with enhanced features, possibilities and classic wood side panels. It also features total MIDI implementation with independent MIDI channels (1-4) for each of the Filterbanks. Each has its own separate inputs and each can function independently or all can be linked together for a mega filter with a 96dB slope!
The Modularity of the QMF is apparent when you start using it. Though you can use it with 4 separate sources independently, by patching the same source through one, two three or all of the Filterbanks while linking them together can give you a monstrous amount of filtering options. The QMF ships with 10 jack cables to accomplish patching. But it doesn't stop there. LFO Outputs, CV and GATE inputs and outputs and more allow you to create wild filter effects while in the analog domain.
Newly added features include a Bright switch to boost high frequencies. Much faster filter envelope follower speeds are possible. Triggering of the LFO. An Octave switch doubles the center frequency of filters 3 and 4. A sawtooth waveform is available for the LFO. And there are 2 extra jack-sockets on each filter. These new features are only available on Banks 3 and 4, however.
Specifications
Polyphony -
4 Filter Banks
Multitimbral -
4 Filter Banks
LFO -
4: modulates filters or envelopes
Filter -
8 (2 per Filter bank): 24dB/oct 4-pole low-pass / band-pass / hi pass / notch filter with resonance and AD(S)R envelopes