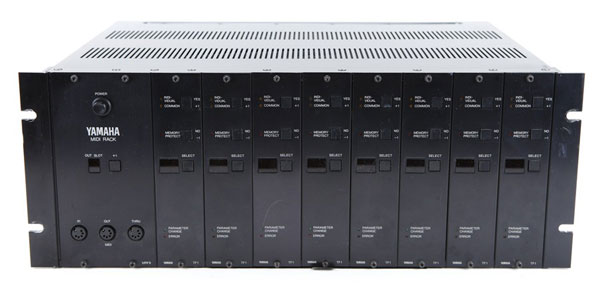 The TX816 is a monster of DX and FM digital synthesis. It is a unique system in that it is a rack unit that could take up to eight TF1 modules. A TF1 module is basically a DX7 condensed down to a single circuit board with almost no front panel controls. Definitely designed for use with external hardware and software controllers the TX816 allows you to easily carry around up to eight DX7s! Software such as MOTU Unisyn, Emagic SounDiver, or even another DX7 can be used to program the sounds in each module via MIDI.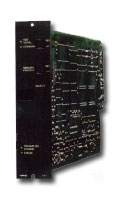 Each TF1 module consists of a 16-voice, 6-operator digital FM synth engine. So a complete TX816 with all eight TF1 modules would offer up to 128 voices and 48 operators! Each TF1 also features an indepednent audio out (XLR) and MIDI I/O for a total of eight audio outputs and MIDI I/O's. It also has one global MIDI in/out port with 8-part multitimbrality, but no common stereo or mix output.
The TX816 was designed for demanding live use where portability, polyphony, and lots of outputs are a must! The TX816 is fully compatible with all other DX synthesizers including Native Instruments FM7 software-based plug-in. You can use the TX816 like it's eight seperate DX7s or mix and pan each module together to layer your sounds into one monsterous DX powerhouse! It has been used by Kitaro, Chick Corea, Michael Jackson, Europe, and Scritti Politti.
In the early eighties these sold for anywhere between $2,000 to $5,000 depending on how many TF1 modules were installed (from two to eight typically). Luckily for today's musicians you can get a software plug-in like FM7 for ten times less money and you still get everything the TX816 could do, and much more too!
Specifications
Polyphony -
128-voices via eight 16-voice TF1 module cards
Oscillators -
Digital FM synthesizer with 6 Operators and 32 algorithms per TF1 module
Memory -
256 patches (32 x 8)
Control -
MIDI 1 IN/OUT per TF1 card, 1 global IN/OUT (up to 9 I/O total) with 8-parts multitimbral