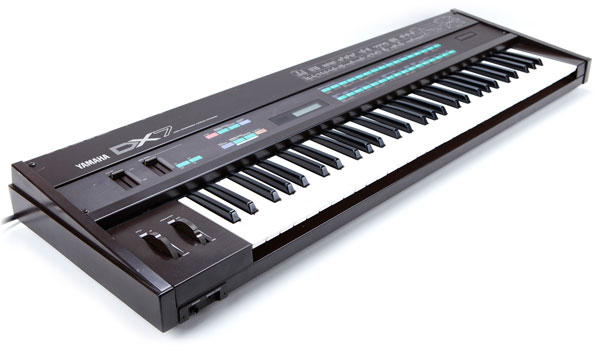 One of the most popular digital synths ever was the DX7 from Yamaha, released in 1983. It featured a whole new type of synthesis called FM (Frequency Modulation). It certainly is not analog and it is difficult to program but can result in some excellent sounds! It is difficult because it is non-analog and thus, a whole new set of parameters are available for tweaking, many of which seemed counter-intuitive and unfamiliar. And programming had to be accomplished via membrane buttons, one data slider and a small LCD screen.
Still the sounds it shipped with and that many users did manage to create were more complex and unique than anything before it. Percussive and metallic but thick as analog at times, the DX7 was known for generating unique sounds still popular to this day. The DX7 was also a truly affordable programmable synth when it was first released. Almost every keyboardist bought one at the time making the DX7 one of the best selling synths of all time! It also came with MIDI which was brand new at the time - Sequential had already released the first MIDI synth, the Prophet 600. Roland had just released the JX-3P with very basic MIDI implementation, and wouldn't get around to adding full MIDI for another year with the Juno-106, and it would be three years before Roland can counter the popularity of the DX7 with a digital synth of their own, the D-50.

The DX7 has been used by the Crystal Method, Kraftwerk, Underworld, Orbital, BT, Talking Heads, Brian Eno, Tony Banks, Mike Lindup of Level 42, Jan Hammer, Roger Hodgson, Teddy Riley, Brian Eno, T Lavitz of the Dregs, Sir George Martin, Supertramp, Phil Collins, Stevie Wonder, Daryl Hall, Steve Winwood, Scritti Politti, Babyface, Peter-John Vettese, Depeche Mode, D:Ream, Les Rhytmes Digital, Front 242, U2, A-Ha, Enya, The Cure, Astral Projection, Fluke, Kitaro, Vangelis, Elton John, James Horner, Toto, Donald Fagen, Michael McDonald, Chick Corea, Level 42, Queen, Yes, Michael Boddicker, Julian Lennon, Jean-Michel Jarre, Sneaker Pimps, Lynyrd Skynyrd, Greg Phillanganes, Jerry Goldsmith, Jimmy Edgar, Beastie Boys, Stabbing Westward and Herbie Hancock. Pretty impressive for just a partial listing!
Following the monaural DX7 came the stereo DX7 mkII - just as popular and much more advanced. Its unique sounds are very popular for industrial techno type music as well as ambient and electro. The TX-7 is essentially a desktop module form of the DX7 but is even harder to edit or program since it requires external editors or software. The monolithic DX1 and DX5 models which packed two DX7 synth engines into one instrument were the epitome of the DX line of synths created by Yamaha. There have also been a few budget spin-offs like the DX9, DX100, DX21 and DX27. FM synthesis has also made its way into the TX-81Z & TX-802 and software synthesizers like Native Instruments FM7.
Still the DX7 has remained the all around best and most popular DX synth due to its affordable price, professional features for studio and live performance and its excellent range of sonic possibilities and extensive programmability. In fact the reason the DX7 is always so affordable (usually under $500 second-hand) is because there are so many of them out there, still being used and traded! And they are reliable, still functioning well over 20 years later unlike older analog gear.
Demos & Media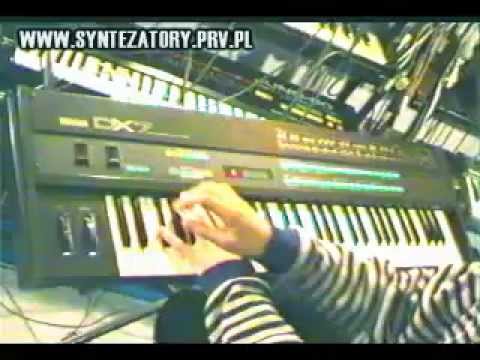 Audio Clip 1
Get a taste of the sounds a DX7 can generate.
Specifications
Oscillators -
16 bit Digital 6 operator FM.
#Instruments -
(1) Monotimbral
LFO -
Sine/Square/Tri/SAW up/SAW Down/Random
VCA -
6 Envelope generators 8 parameters each
Keyboard -
61 keys (w/ velocity and aftertouch)