Best FX Pedals To Use With Your Synthesizers
Post date:
Fri, 06/25/2021 - 09:12
A while back, we looked at some of the FX pedals popular amongst synthesizer fans. However, as with anything synth-related, there is always much more on offer than what can be fit into a single article. For that reason, we have decided to feature a few more pedals that will make an excellent addition to any musician's collection. Bands such as Ladytron are fond of incorporating FX pedals in their synth tracks, and the right pedals can open up a whole new world of sonic possibilities. If that sounds appealing, then check out the following FX pedals that work great with synthesizers.
Strymon Deco Tape Saturation & Doubletracker
Link: https://www.strymon.net/product/deco/
Price: $299
The Deco Tape Saturation & Doubletracker by Strymon offers two effects in one and can add some vintage tape effects to your music. Thanks to the tape saturation, you get some nice compression and saturation to smooth out your sound while also adding subtle tape-driven transparent overdrive. The Doubletracker, on the other hand, is useful for several effects, ranging from tape chorusing sounds to psychedelic tape flanging. This pedal is great for anyone who loves the sounds produced by the early days of recording studios.
Strymon BigSky
Link: https://www.strymon.net/product/bigsky/
Price: $479
The Strymon BigSky is a popular choice amongst those who enjoy the sound of lush, glorious, radiant reverbs. This pedal features twelve studio-class reverb machines that can be tweaked with simple yet powerful controls. The reverb options include Hall, Plate, Spring, Swell, Bloom, Cloud, Chorale, Shimmer, Magneto, Nonlinear, Reflections, and Room. With this pedal, you can instantly save and recall up to 300 of your own presets, assign these presets custom names and select them via an external MIDI controller.
Eventide Space
Link: https://www.eventideaudio.com/products/stompboxes/reverb/space
Price: $579
The Eventide Space is another great choice for synthesizer fans who love all kinds of reverb. This FX pedal has a range of spatial effects covering everything from basic reverbs and delays to unique combination effects. It features 100 presets, including artist presets and real-time control via ten knobs, MIDI, or an expressional pedal. It also features true analog bypass, mono or stereo operation, and a programmable HotSwitch. This pedal's 12 reverb and delay combination effects are Room, Plate, Spring, Hall, Blackhole, Shimmer, Reverse Reverb, ModEchoVerb, DualVerb, MangledVerb, DynaVerb, and TremeloVerb.
Landlord FX Spinning Room
Link: https://www.landlordfx.com/product/spinning-room/
Price: $60
If you are looking to add a bit of "psychedelic whoosh" to your music, then look no further than the Spinning Room pedal by Landlord FX. It has 11 modulation effects tucked away in its mini chassis and features True-Bypass switching. Select the effect you desire using the master control knob and then tweak the Depth, Speed, and Level to your heart's content using the three smaller control knobs. The 11 effects include Chorus (I), Chorus (II), FLanger (I), Flanger (II), Jetter, Vibe (I), Vibe (2), Phaser, Trem (I), Trem (II), and Filter.
Electro-Harmonix MEL9 Tape Replay Machine
Link: https://www.ehx.com/products/mel9/
Price: $249
The EHX MEL9 is an affordable FX pedal for those looking to add some unique Mellotron sounds to their tracks. It pays homage to some of the best Mellotron sounds, so you get access to Orchestra, Cello, Strings, Flute, Clarinet, Saxophone, Brass, Low Choir, and High Choir. The pedal also includes independent Effect and Dry volume controls for creating the perfect mix at the Effects output. In addition, it has Attack and Sustain controls to set the volume swell speed and release time.
Vongon Paragraphs
Link: https://www.vongon.com/product/paragraphs
Price: $299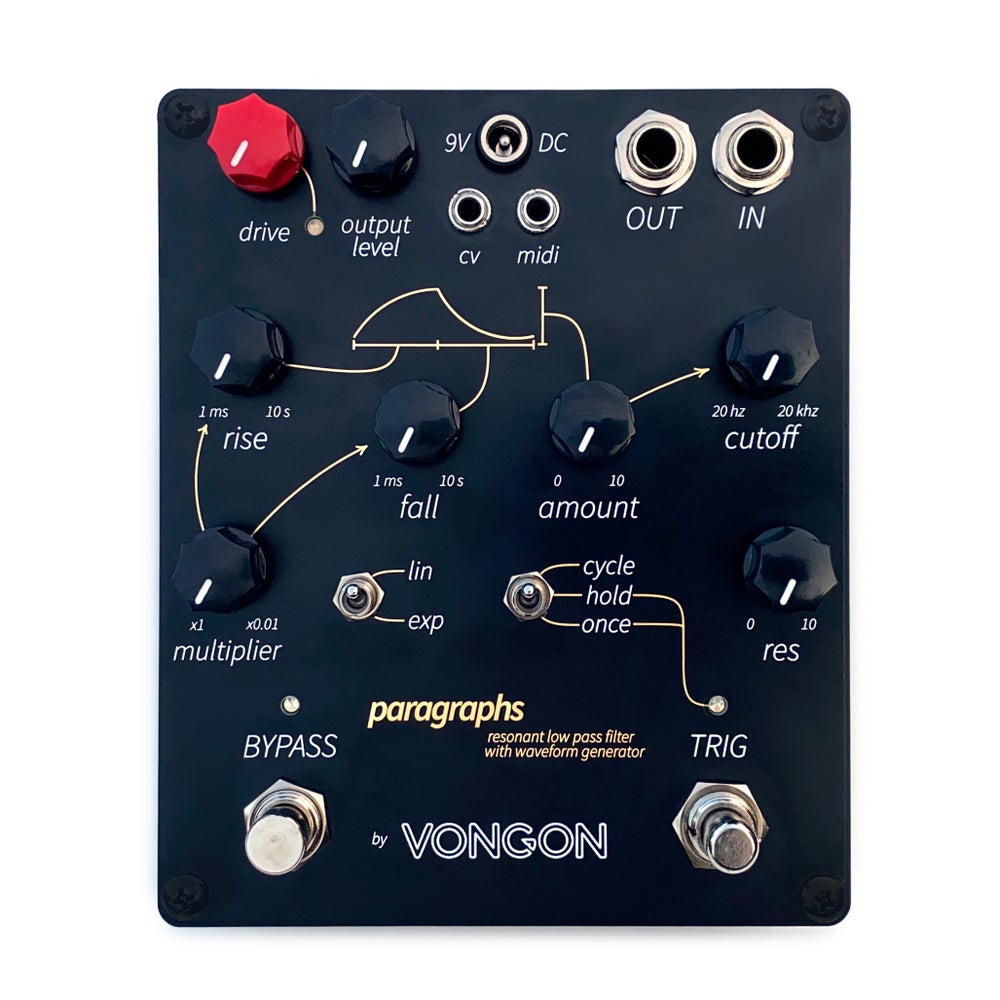 The Vongon Paragraphs is an analog four-pole resonant low pass filter featuring an attack, decay envelope generator. It was designed with a focus on simplicity but also offers a lot of flexibility. The filter circuit uses a modern replica of the same component analog classics such as the Sequential Prophet 5 and Elka Synthex used. Its envelope generator also offers modulation in an uncommonly wide range of frequencies. Since inputs for CV and MIDI are available to trigger the envelope generator remotely, you can keep the Paragraph in rhythmic synchronization with MIDI sequencers, Euroracks, DAWs, and other external systems.
Conclusion
There are many other FX pedals worth mentioning, such as the Mercury 7 Reverb pedal by Meris, The MOOD two-channel granular micro-looper by Chase Bliss Audio, and the Seraphim Shimmer by Neunaber. Let us know in the comments below or on the forum what FX pedals have been a mainstay of your synth setup.