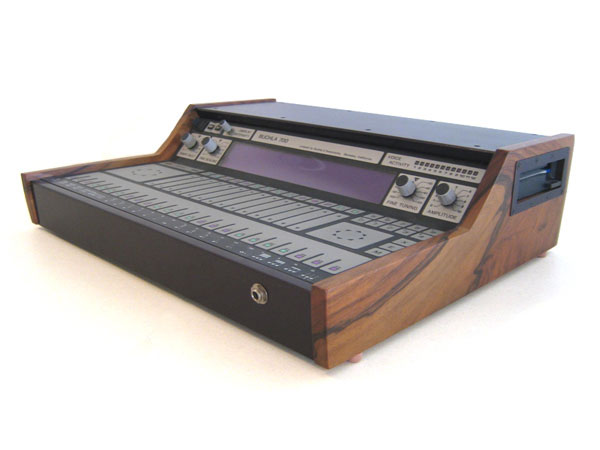 Released in 1987, the 700 was the first Buchla to implement MIDI. It had three sets of MIDI inputs/outputs, as well as CV/Gate, SMPTE, and two RS232 ports. It continued Buchla's tradition of advanced computer control of its analog circuitry. And the pressure- and position-sensitive touch-plate concept was implemented to the max on the 700; the keyboard and almost every other control surface is a touch-plate!
The Buchla 700 was leaps ahead of previous Buchla synths, it could now control up to 190 acoustic variables. The 700 had 12 voices with 4 digital oscillators per voice (48 oscillators!), capable of a wide range of sonic creation including FM, waveshape interpolation and timbre modulation. Filters, modifiers and amps are all still in the analog domain. There can be up to 6 modifiers per voice, 15 envelopes per voice and the envelopes can have up to 96 break-points!!!
A large centralized futuristic LCD display shows you what you're editing and/or the positions of the various touch sensitive controls (so no external monitor hook-up is required). It used "MIDAS VII" a music programming language which included an instrument editor, waveshape editor, tuning table editor, and score editor. There's a built-in 3.5 inch disk drive on the right side for all data and program storage. Up to 40 instrument definitions can be stored to disk. A vintage machine almost ahead of it's time which, like so many other Buchla synths, is a very rare synth to find in good working condition today.
Specifications
Keyboard -
24 pressure, position, touch sensitive plates
Memory -
To External disk, up to 40 instrument definitions can be stored to disk
Control -
MIDI, CV/Gate, SMPTE