Analogue Systems RS-Integrator
The Sorcerer is a keyboard version of the RS-Integrator series of analog modular synthesizers from Analogue Systems in England. They sell dozens of analog synthesis modules individually or as part of a modular system. The Sorcerer (pictured above) is a walnut cabinet with a 49-note keyboard with space for 168hp of modules (that's something like up to 28 modules). It comes with 2 modules pre-installed left of the keyboard, the RS-330 Keyboard Controller and RS-220 X/Y Controller. It also has MIDI and standard 1V/octave CV jacks for external control. Since the modules use CV (control voltages), incoming/outgoing MIDI is converted to/from CV. The MIDI response is noticeably less than instantaneous, but the built-in keyboard (which uses CV itself) is quick, responsive and light to the touch.
Every Sorcerer is unique since you decide which modules you want to install in it. Analogue Systems offers a full range of excellent modules and the Sorcerer is compatible with Doepfer's A-100 line of synth modules as well. Analogue Systems has even gone so far as to create replicas of classic Moog, EMS, and Bode filters and effects. You can even get Moog or ARP 2500 style knobs on your modules if you choose. Plop 3 VCO modules and their Moog filter into the Sorcerer and you've got yourself a convincing Minimoog! Each module is easily added/replaced and internally connected via 16-pin ribbon cable.
Creating sounds is pure analog heaven. You have to patch audio and CV from module to module to generate, control and (hopefully) create sounds. It uses 1/8" jacks for patching. Successfully creating sounds can pose a challenge but the results can be very rewarding. Here's a list of the modules Analogue Systems offers:
RS10 - 3U, 84hp 19" rackmount case
RS15 - 6U, 2x 84HP 19" rackmount case
RS20 - High quality ring mod + multiple
RS30 - Frequency to voltage & envelope follower
RS40 - Noise, sample + hold, & clock module
RS50 - Trigger generator with VC pulse shaper & VC DC level shifter
RS60 - VC ADSR with auto repeat
RS70 - Pre-amp, inverter, slew module
RS80 - VC LFO: Square, Saw (variable wave shape), Sine, Tri, all waveform outputs available, gate/reset i/p (sync), Hi/Lo range (Hi into audio range), speed LED
RS90 - High end VCO, all waveforms available on sockets, 2 waveshape pots with VC, sync, hi-stability (uses no Curtis chips!)
RS95 - Same specs as the RS90 but with added sine wave outputs and enhanced sync feature.
RS100 - Moog type ladder filter VCF (LPF)
RS110 - Multi-mode filter: notch, band, low, high pass filters. 2xCV (inc. level pots), 2xAudio (inc. level pots), Resonance (with i/p point between frequency and resonance for introducing delay lines on feedback loops). (Outputs: Notch, Band, Lo, Hi, Resonance).
RS120 - Comb filter (phaser/flanger)
RS130 - Programmable scale generator
RS140 - Midi/CV Converter. 2X20 display. 5 controller outputs, individually defined. 3 trigger outputs individually defined, trigger, gate, S trigger or midi clock. 1 CV out (On 2 sockets) 64 memories selectable as patches over midi.
RS150 - 4 Channel sequential switch with reset features.
RS160 - CV mixer. 4x inputs (inc. level pots), 1x output with -ve or +ve level pot.
RS165 - Audio mixer. 4x inputs (inc. level pots),1x output with level pot.
RS170 - Dual 5 way multiples
RS180 - VCA with log and lin control inputs.
RS190 - VU meter / Inverter Module
RS200 - 3x 8 step sequencer with start/stop/reset functions.
RS210 - Eight octave fixed filter bank
RS220 - X/Y Joystick. High quality unit
RS230 - CV buffer / inverter
RS240 - Bode type frequency shifter, faithful reproduction of the circuitry of this classic unit.
RS250 - Trunk Line - brings audio to rear panel
RS260 - Voltage Quantiser
RS270 - Adaptor converter - converts between 6.35mm, 3.5mm, and phono sockets (2 sets)
RS280 - Audio and trigger clock divider
RS290 - V.C. delay/sampler. Stunning 48khz, 16bit, 5.5 second stereo echo and delay with user assignable control of midi, analogue clocks, triggers, and CV Calculates the correct delay time to the incoming tempo. 32 user memories to create personal comb filter, flanging, chorus, pitch shifting and echo programmes. Can recreate bbd and tape echo effects and up to 31 seconds available in mono mode. In sample mode the user can voltage control and trigger the source material in ways unavailable until now. Using the RS295 optional expander samples can be dumped and retrieved using sys ex dumps.
RS295 - Expander module for the rs290 featuring the midi interface and a 2nd user assignable feature.
RS300 - 8 channel CV to MIDI converter
RS310 - Reverb/Chorus with CV of wet / dry mix and CV of delay time.
RS320 - Spring reverb with CV for wet mix
RS330 - Keyboard Controller (Not sold seperately)
RS340 - Gate delay and trigger with reset feature.
RS350 - Voltage controlled slew limiter with on / off inputs socket for added unusual effects.
RS360 - Improved version of the best selling FB3 Filter Bank in module format.
RS370 - Polyphonic harmonic generator. 6 voice, 4 generator per note additive synthesis engine. Additional features include fully functional multi channel midi /cv converter with 4 programmable controller outputs and assignable gate function for programming s trigger and standard triggers. A useful arpeggiator and the ability to travel through the custom user stored harmonics and factory stored waveforms via voltage control.
RS375 - Expander module for manipulation of up to 24 harmonics via voltage control with 16 level pots.A must have when generating real time additive synthesis in single voice mode.
RS376 - Useful expander for the RS370 particularly for users who do not require the real-time additive synthesis capabilities of the RS375 module but want to take advantage of 4 extra CV inputs and 4 controller outputs.
RS380 - Modulation controller useful for Sorcerer and Leviathan systems.
RS390 - Mono in stereo out echo unit with V.C. of delay time and wet / dry mix
RS400 - Classic phase shifter design with V.C. of parameters and built in LFO which is available to the user on a socket.
RS500e - Genuine Ems synthi filter. This legendary filter can be switched between pre1974 and post 1974 filter type and response. For the first time response can be voltage controlled which was designed on the circuit board but not available on the matrix. This module is made under license from Ems.
RS510e - Genuine Ems trapezoid generator featuring Attack, On, Decay, Off and Trapezoid output level. With v.c of Decay time, status led, Sig in and Sig out, Gate in and Outputs A and B this classic timing generator when used with Rs500e captures the essence of the VCS3 and Synthi A. This module is made under license from Ems
Although the Sorcerer system makes for a classy and powerful performance synth, there are other cabinet options available as well. There is the RS-Integrator series (pictured above). It contains models such as the RS-10 and RS-15 rackmounts and the larger 8500 series walnut cabinet systems. All are waiting to be filled up with the modules of your choosing.
The Apprentice for $600 is a keyboard-less Sorcerer. The Demon is a stand-alone 49-note keyboard controller with built in MIDI/CV converter, joystick and portamento, single and multiple triggering that can be used with many compatible analog synths (Moog, ARP, Roland and others). RS-Integrator and related systems haave been used by Jonny Greenwood of Radiohead, Autechre and Parallel Worlds.
Demos & Media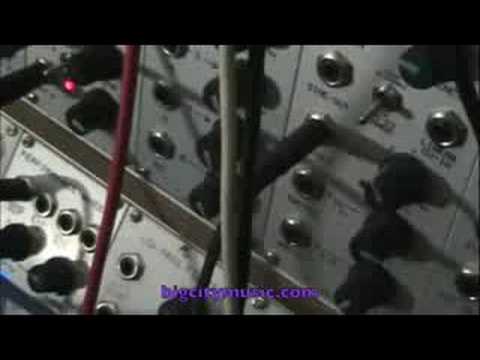 Demo of various RS-modules in a "Eurorack Modular" system
Specifications
Oscillators -
RS-90: VCO with 2 waveshape pots with VC (sawtooth and square), sync, adjustable pulse-width
LFO -
RS-80: Sine, Triangle, Square and Sawtooth waveforms.
Filter -
RS-110: Multimode 4-pole (24dB/oct) HP/LP, 2-pole (12dB/oct) BP/notch. 2 audio and CV inputs.
RS-120: Comb Filter (phaser/flanger)
VCA -
RS-60 Envelope Generators offer ADSR envelopes.
RS-180 VCAs have 2 audio and CV inputs and individual Level knobs
Keyboard -
Sorcerer / Demon: 49 note monophonic keyboard
Control -
MIDI IN/OUT/THRU, CV/Gate outputs