Synthesizers. com Portable Systems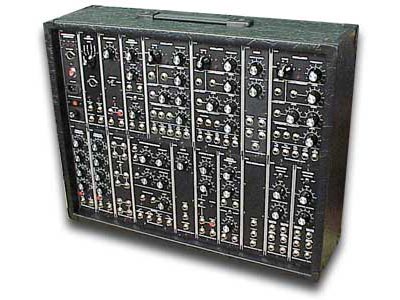 Synthesizers.com is a company in the USA that makes classic styled custom analog modular systems and sells them over the internet! They offer pre-built systems such as the QSP22 (pictured above) and QSP44 which offer 22 or 44 space road-worthy cabinets, respectively, and a selection of modules. You can also customize your own System by choosing which modules you want them to install for you.
The form factor is the same as Moog Modulars but with an upgraded power supply system. The systems offer hyper-modularity which allows any module to be placed anywhere without rewiring, including power modules. Synthesizers.com modules will fit into Moog modulars and the signal levels are compatible. A wide variety of modules offer a raw, analog sound, including stable oscillators that will track over many octaves, a 24dB ladder filter, a state variable filter, and a 14-bank fixed filter. The 24-step analog sequencers can be daisy-chained for more stages and offer unique control features not found on your typical sequencers.
The QSP Portable Systems use the same traditional patching, routing, knob fiddling and scientific tinkering of old-school modular synthesizers, with all the benefits of today's technology! The user interfaces of most modules include reversible attenuators and mixers to minimize patch cable clutter, and to make patching more intuitive. These synths are perfect for anyone interested in learning to use analog synthesizers in their traditional form. These systems are expandable and affordable compared to those old and unreliable vintage systems! Also available in Studio and Rack systems.
Modules from Synthesizers.com
QSP22 Modules
1) Q137 Power Control/Interface
1) Q104 MIDI Interface
1) Q105 Slew Limiter
3) Q106 Oscillator
1) Q107 State Variable Filter
2) Q108 Amplifier
2) Q109 Envelope Generator
1) Q110 Noise Source
1) Q112 Mixer
1) Q116 Ring Modulator
1) Q117 Sample & Hold
1) Q124 Multiples
2) Q125 Signal Processor
QSP44 Additional Modules
1) Q103 DC Power Interface
3) Q106 Oscillator
2) Q108 Amplifier
2) Q109 Envelope Generator
1) Q111 Pan/Fade
1) Q112 Mixer
1) Q118 Instrument Interface
1) Q120 Connector Interface
1) Q124 Multiples
1) Q125 Signal Processor
1) Q128 Switch
1) Q130 Clipper/Rectifier
1) Q131 Blank Single Panel
1) Q141 Oscillator Aid
1) Q142 Pedal Interface
Other Modules
Q113 8-Channel Mixer
Q115 Reverb
Q119 Sequencer
Q121 Banana Jack Interface
Q122 Mini Jack Interface
Q123 Standards
Q127 Fixed Filter Bank
Q140 Fixed Filter Bank Aid
Q143 Presets
Q146 Normalization
Q147 Distributor
Q150 Tran Ladder Filter
Q161 Oscillator Mixer
Q162 Filter Mixer
Demos & Media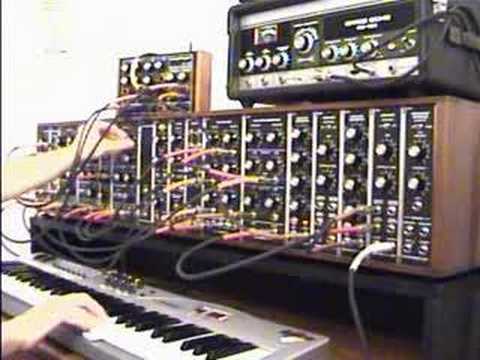 Moot Booxle's first Synthesizers.com movie
Specifications
Polyphony -
Monophonic / Polyphonic
Oscillators -
Q106 - Analog Oscillator with Sine, Triangle, Saw, Ramp and Pulse waveforms. QSP22 has three, QSP44 has six.
Q110 - Noise Source makes White, Pink and Low Freq. Noise
LFO -
Q106 - Analog Oscillator with Sine, Triangle, Saw, Ramp and Pulse waveforms
Q117 - Sample and Hold
Filter -
Q107 State Variable Filter - 12dB/oct Low/Band/High Pass and 6dB/oct Notch modesQ116 Ring Modulator - combine two input signals
VCA -
Q108 Amplifier - Gain controls with multiple input options
Q109 - Envelope Generator - Attack/Decay/Sustain/Release
Keyboard -
5-Octave Studio Keyboard (optional). Monophonic and Duophonic operation. Outputs pitch control voltage, gate, velocity control voltage, and a trigger pulse.
Control -
Q104 - MIDI Interface (MIDI IN, Gate Out, Trigger Out, Pitch Out, Velocity Out)
Date Produced -
Since 2000