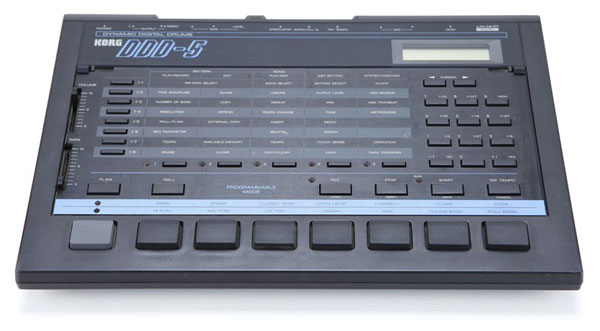 The DDD-5 is a digital programmable drum machine from Korg from the mid-eighties. It was a newer but less professional version of the DDD-1. It offers 14 electronic drum sounds at once with a typical mid-eighties electronic drum sound that is not too popular today. In fact today the DDD-5 may be used more often as a trusty old play along drum machine for practicing musicians. Basic sounds include kicks, snares, toms, rimshot, closed hi hats, open hi hats, ride, crash, claps, cowbell, tambourine and cabasa. Additional sounds can be added using ROM cards, compatible with the DDD-1. The DDD-5 does not include the sampling option that was available on the DDD-1. And there are only seven assignable Dynamic Sound buttons for triggering drum sounds.

Programming the DDD-5 is fairly straight forward. Memory holds 100 patterns which can be linked or chained to form songs, for which there are 24 song memory locations. The drum sounds have editable parameters such as tuning and decay. For added groove in your patterns there are Roll and Flam effects. The DDD-5 is equipped with MIDI implementation making it an easy drum machine to use in any MIDI environment. If you like typical eighties drum sounds, the DDD-5 is a cheap alternative to the DDD-1 and other similar drum machines like the Roland TR-707.
Demos & Media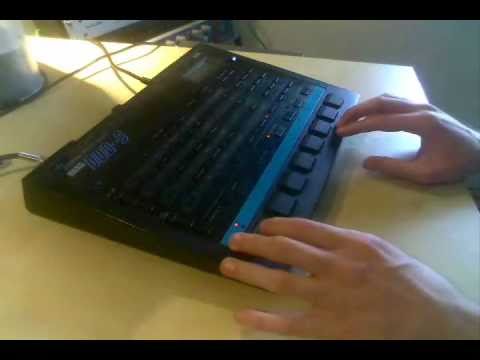 Audio Clip 1
The hidden power of Korg DDD-5 by Paul K of TRANZISTA. All sounds are coming from the machine with factory ROM and custom made patches, no other equipment was used.
Specifications
Polyphony -
12 (14) voices
Sounds -
18 sampled sounds: 2 Kick, 2 Snare, Low/Mid/Hi Toms, Rimshot, Claps, Crash, 2 Open hihats, 2 Closed hihats, Ride, Cowbell, Tambourine and Cabasa
Controls -
decay, tuning and more
Keyboard -
7 velocity sensitive pads