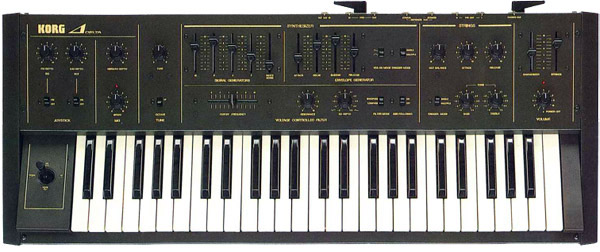 Korg's Delta is an analog semi-poly synth/string machine, basically a slimmed down version of the Korg Trident. Though limited in the range of sounds compared with other synths of the same genre, the sheer quality of the sound from this little beastie really does make it something of a marvel. It can be found used for cheap and is worth it for the retro synth strings and fat bass synth tones.
The synth is split into two sections, Strings and Synth, for which there are separate audio outputs along with a combined output for headphones or mixing. Each section has its own controls. The String section has two pitch sliders (16' and 8') along with two tone controls (Bass and Treble) and variable Attack and Release controls to modify the sound. The Synth section has four pitch sliders (16', 8', 4' and 2'). There is also a white noise generator along with a very effective 24dB/oct low pass filter (high pass and band pass options are included too) and full ADSR controls. The synth has no memory storage or MIDI, however it does has voltage control and gate ins and outs.
The string sounds are very basic but with its separate outputs and when mixed together with the polysynth you do get that classic 'layered' sound which is useful enough on this synth; and it's fully polyphonic, so you wont be running out of notes! There is a handy joystick to the left of the 49-note keyboard for pitch bending and modulation capabilities. The construction is solid and heavy partly due to the implementation of a wooden base but also because it was designed for heavy usage on the road. Added bonuses: noise modulation, stereo out (strings/synth split), and the ability to combine synth and strings or turn off oscillators in the mixer section. It has been used by the Human League, Bitch Cassidy, Flock of Seagulls, Ladytron, Zensor and Broadcast.
Demos & Media
Specifications
Polyphony -
Full polyphony (49 notes)
Oscillators -
1 VCO with white noise generator
LFO -
1 LFO: fixed sine waveform
Filter -
1 VCF: 24dB/oct LPF, HPF and BPF (with Cut off, resonance and env mod amount controls)
VCA -
1x AR for Strings section, 1x ADSR for Synth section
Control -
CV and trigger (In/Out)
Date Produced -
1979 - 1984
Resources
Images from Korg Product Brochure.
Thanks to Ian Johnson for providing some commentary.
Additional information provided by Carl Saff and Lee Matthews.