The Orchestra is a 4-part orchestral synthesizer from the classic Italian synth company, Siel (later bought by ARP and relabeled the Quartet). The Orchestra has 4 presets: Brass, Strings, Organ and Piano. The 4 tone color families can be played individually or two can be simultaneously played. They are also individually tweakable. Selected presets will light up LEDs to show you which sliders and buttons can be used to modify the sounds. The synth itself is very limited, there's no external control, no pitch/mod wheel and few edit parameters. However it sounds very good and it is, after all, a classic analog synth.
The Brass section creates Trumpet and Trombone sounds with independent attack and sustain controls. The String section creates Cello and Violin sounds with independent attack and sustain controls. The Organ section is 2-voice and has a Celeste sound available as well. The Piano section offers two types, traditional or Hony Tonk. The ARP Quartet, which is completely identical to the Orchestra has been used by 808 State and Massive Attack for some of its great string sounds.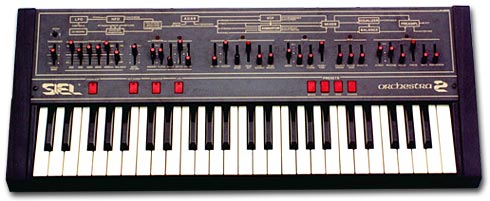 The Orchestra 2 was a more flexible version that followed the original and was released in 1983. It still had 4 preset sounds but offered many more sliders and edit parameters. The Brass section received a better filter with cutoff and resonance sliders. The Strings section added Mute and Percussion sounds to the mix. The Reed or organ section offered an Accordion and Musette sound in addition to the traditional church organ sound. And the Piano section added a clavichord sound to its mix. Other sections include a 5-band graphic EQ, simple LFO, Octave Transposition and the Animator section, a flange-type effect for "animating' your sounds!
Demos & Media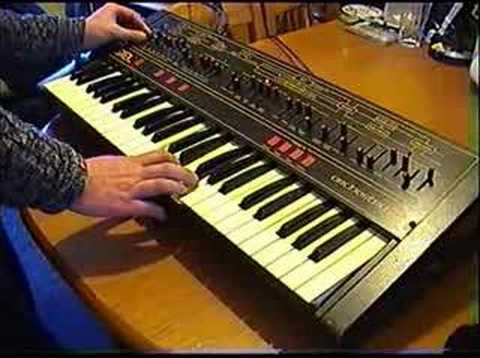 Specifications
Oscillators -
Brass, Strings, Organ and Piano
LFO -
Fixed waveform, speed, depth, delay sliders
Filter -
Yes: Brilliance (Orch 1). Freq. Cutoff and Resonance (Orch. 2)
Effects -
Animator flange effect (Orch 2)
VCA -
Yes, individual attack and decay sliders for strings, brass and piano sections.
Date Produced -
1979-1982 (Orch 1); 1983-1986 (Orch 2)