ARP Solina String Ensemble

The Solina String Ensemble is often thought of as the String Machine of the late 1970's disco era. It's a multi-orchestral machine with Violin, Viola, Trumpet, Horn, Cello and Contra-Bass sounds. These sounds can be engaged via individual on/off switches, allowing for a variety of ensemble configurations. The Cello and Contra-Bass sounds are monophonic and available only on the lower 20 keys of the keyboard. The remaining four sounds are polyphonic and can be played across the entire length of the keyboard. On their own, the sounds are quite unrealistic and not particularly useable. But when combined as an ensemble, and especially with the Chorus effect engaged, the resulting string sound becomes especially lush and shimmery.
The Solina String Ensemble uses divide-down technology, common in organs of the era, to achieve full polyphony. The Chorus/Ensemble effect is achieved by passing the sound through three modulated delay lines that cause a phase-shifting effect to make it sound thicker and more animated. There are also on-board Crescendo (attack) and Sustain Length (decay) sliders, volume sliders and a global tuning knob. It also has Gate and Trigger outputs from the polyphonic keyboard and is completely cased in wood (or wood-like) panels with a clean and discrete layout.
The Solina String Ensemble, like a few other ARP products, is not actually an ARP invention. The Solina was created by the Dutch company Eminent in 1974. It was derived from the string section of Eminent's 310U Organ, and sold commercially as the Eminent Solina String Ensemble. ARP bought the rights to re-brand the Solina for the US market as the ARP String Ensemble. There were also four versions: SE-I was monoaural with a permanent chorus effect, SE-II added an on/off switch for the chorus effect, SE-III added stereo sound, and SE-IV added LEDs.
The String Ensemble has been used by Air, The Eagles, Elton John, Pink Floyd, The Cure, Joy Division, OMD, Josh Wink, STYX, Tangerine Dream, Keane, Japan, and New Order.
Demos & Media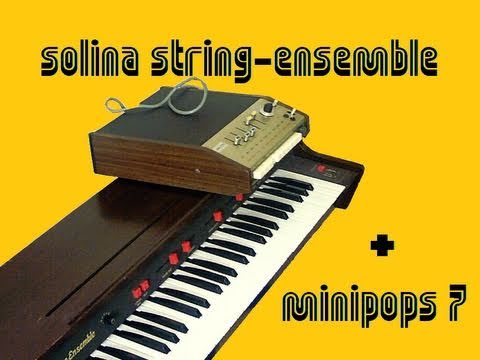 ARP SOLINA STRING-ENSEMBLE 1973 with MINIPOPS 7 | HQ DEMO
Audio Clip 1
Nice vintage string synth demo track, from the Future Music CD, issue 58.
Audio Clip 2
Individual patch demos, from the Future Music CD, issue 58.
Specifications
Oscillators -
Viola, Violin, Cello, Contra-Bass, Horn, Trumpet
VCA -
Crescendo (attack) / Sustain (decay)
Date Produced -
1974 - 1981