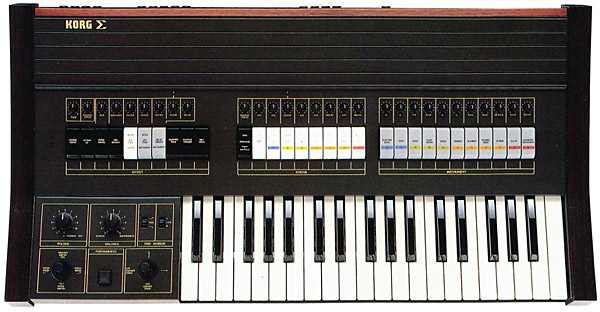 The Sigma is an interesting bi-timbric synthesizer consisting of two sections: a genuine analog "Synthe" and a Preset "Instrument" section. All together, there are 19 presets on it that give a variety of sounds. There are 11 presets for the "Instrument" section which include fuzz guitar, electric bass, clavi, string, flute, double reed, trumpet, hammered percussion, etc. And there are 8 presets for the "Synthe" section that give variable waveforms (square, pulse, sawtooth) in different pitch ranges (from 32' to 4'). Each preset has its own rotary control to vary its sounds. The Sigma is also unique for its ability to combine the synth and instrument sections for a nicer, layered synth sound or effect. While the synth section is nice, the instrumental sounds (tuba, trumpet, strings, guitar, etc.) are pretty darn bad, and only get interesting when mixed with the "Synthe" section sounds.
Cool joysticks add multi-dimensional control. Use one to control pitch, noise and vibrato and use the second joystick to edit the low-pass and hi-pass voltage controlled filters! There is also an "Effect" section which is for Vibrato, Portamento, Sample and Hold, Noise, Key Hold, Multiple Trigger and Ring Modulator (each with it's own rotary control to vary it's sound). Even though it has a switch labelled "Ring Mod," it's actually a cross-mod. It lets you cross modulate between the instrument and Synth sections.
Ultimately, however, a basic design, limited edit-ability and a pure lack of memory and MIDI leave the Sigma far behind on the evolutionary scale (although it does let you play a quarter-tone scale). The Sigma has a metal music stand that slides out the back to hold your sheet music suggesting it may have been aimed at hobbyists, though it has been used by Jean Michel Jarre, Rick Wakeman and Keith Emerson. One user describes the Sigma as, "An absolutely terrible keyboard, that is utterly fantastic!"
Demos & Media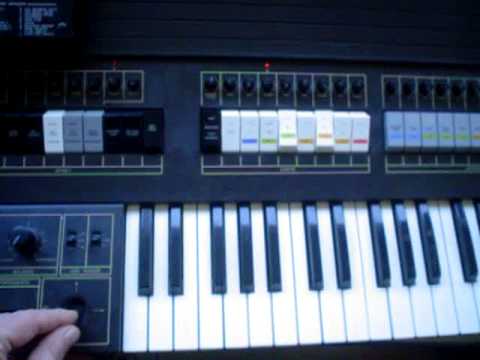 Audio Clip 1
Some demo sounds and effects created by the Sigma including effects, wind, modulation and synth sounds.
Specifications
Polyphony -
Monophonic (Bi-timbral: 2 different sounds at the same time)
Oscillators -
Synth and String sections with a total of 18 VCO's. Sawtooth and Square waveforms along with PWM and noise are available in the "Synth" section.
Filter -
12dB/oct Low-pass and Hi-pass with 'Joystick' controller
Resources
Images from Korg Product Brochure.
Thanks to Orrin Anderson, Lee Matthews and Richard Easter for supplying some information.