Korg's first digitally controlled analog synth hybrid; 8 sampled digital waveforms, analog resonant filter with separate VCF and VCA ADBSSR envelopes. Parameters can be altered in real time via a single programmable slider. 6 voice polyphony in two modes, or one monophonic mode with all six voices stacked. 12 digital oscillators (2 per voice) with 8 simple to complex waveforms, 1 de-tunable and with programmable interval. 64 presets that can be reprogrammed by the user.
Awesome fat basses, lovely warm sounding, pulsing strings, and hard, nasal leads. Some wonderful swirling effects can be found. Imagine a Poly 800 with 8 waveforms instead of 2, and you get the picture.
Due to reliance on sampled waveforms, it does not sit well through distortion, and some waveforms do not go well in a mix when used as a pad. Overall, an exceptional and underrated bass and lead machine with some nice pad sounds to boot.
The DW-6000 was quickly surpassed by the DW-8000: it expanded it to 8 notes polyphony, 16 sampled waveforms, a velocity sensitive keyboard with programmable aftertouch, auto-bend, a simple arpeggiator and a digital delay unit.
Demos & Media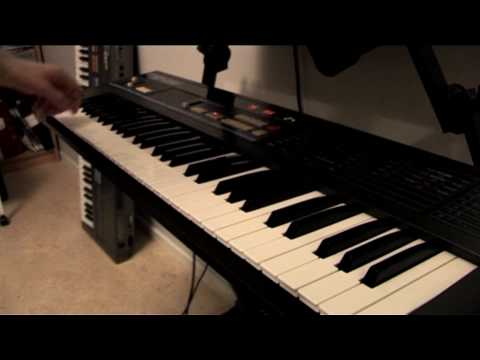 Audio Clip 1
A demo track made with the DW-6000 by Paul K of TRANZISTA. All sounds including the drums are coming from the DW-6000 with outboard delay unit.
Specifications
Oscillators -
2 DCOs per voice; DWGS: 8 sampled digital waveforms
Filter -
Analog Low-pass resonant filter with ADBSSR 6-parameter envelope generator
VCA -
ADBSSR 6-parameter envelope generator
Keyboard -
61 keys (no velocity or aftertouch)
Resources
Images from German Garfunkel.