DW-8000
Take Korg's first digitally controlled analog synth hybrid (DW-6000) two steps higher and you get the more popular DW-8000. Sound is digitally generated from the DWGS (Digital Waveform Generator System) and has been doubled from 8 sampled digital waveforms to 16 simple analog to complex digital waveforms. The DW-8000 has 8 voice polyphony in two modes, or one monophonic mode with all eight voices stacked. The analog VCF resonant filter and VCA both have independent ADBSSR envelopes. Parameters can be altered in real time via a single programmable slider. There are 64 presets that can be reprogrammed by the user.

EX-8000
In comparison to the DW-6000, the DW-8000 expanded to 8 notes polyphony, 16 sampled waveforms, a velocity sensitive keyboard with programmable aftertouch, auto-bend, a simple arpeggiator and a digital delay unit. The Digital Delay was an astonishing goody for the time, offering up to 512ms delay, phasing, flanging, chorusing and other time effects. Both the Arpeggiator, Auto-Bend and Digital Delay make this synth an inspiring and great sounding machine to use for great 303 basslines, techno and house bass and synth sounds and more! The EX-8000 (pictured above) is a rackmount version of the DW-8000. Several 3rd-party developers offered expansion boards for the DW-8000 providing up to 1024 presets, layered sounds, keyboard splits and Sample+Hold for the LFO. Though later overshadowed by the M1, the DW-8000 has been used by Divine Masquerade, Juno Reactor, Depeche Mode, Dream Theater, Joe Zawinul, and Keith Emerson.
Demos & Media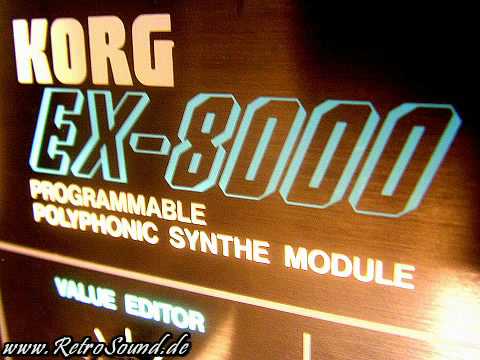 Korg EX-8000 (DW-8000 Rack) DWGS Hybrid Synthesizer
Audio Clip 1
Deep bass run while playing with the VCF and scrolling through MG waveforms, submitted by Jeffrey McFerson.
Audio Clip 2
A demo track made with the DW-8000, submitted by Tudy.
Specifications
Oscillators -
2 DWGSs per voice; 16 sampled digital waveforms (including saw, sqr and sin)
Filter -
Analog Low-pass resonant filter with ADBSSR 6-parameter envelope generator
VCA -
ADBSSR 6-parameter envelope generator
Keyboard -
61 keys (with velocity and aftertouch)
Arpeg/Seq -
64 note arpeggiator