Elektron Machinedrum SPS-1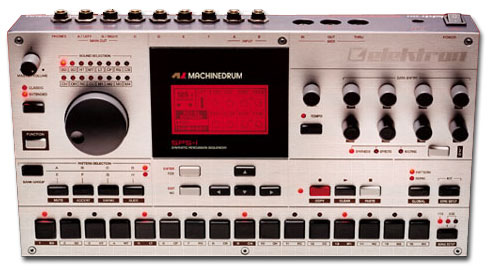 The Machinedrum SPS-1 is an advanced drum machine and drum synthesizer. It can synthesize wonderfully convincing analog sounds from the classic drum machines as well as crisp electronic and acoustic drum sounds, and they can all be tweaked and morphed into unique and dynamic new sounds! It has 39 drum sounds ready to be played or tweaked and customized by you! Its eight real-time control knobs offer total hands-on synthesis and control.
At the core of the Machinedrum are four separate percussion instrument synthesizers. They include a TRX synth that emulates Roland's classic TR-series drum machines. An EFM synth that uses FM synthesis to create crispy percussion sounds. The E12 synth is a sample-playback synth using sounds from the E-mu SP1200 and Simmons electronic drum machines. The PI synth uses physical models of acoustic drums for realistic acoustic drums. Each of these synth engines give you excellent quality drum sounds and you can mix and match sounds from all of them among the 16-voice polyphonic drumkits. Your custom 'Kits' can be saved in any of the 64 memory locations. This will also store any custom tweaks you made to the individual drum sounds in each of your kits.
Drum editing features include amplitude modulation, a 1-band EQ, multimode resonant filter, distortion, sample-rate reducer and effects (delay, reverb). All of these parameters are available on each drum sound independently for total control of each sound in your kit! There's also a compressor and 3-band EQ to process the overall mix. Stereo plus four assignable outputs give you plenty options where to send your sounds and the stereo inputs let you trigger drum sounds or process external sounds as a drum voice.
The built-in sequencer offers two programming methods: Classic and Extended. Classic is a pretty limited mode. It works like the classic TR-series in which you assign a drum tone to a 'step' in the pattern using the 16 buttons along the bottom of the instrument. You can store your patterns but the 'Kit' associated with it and any tweaks you do are not stored. Extended mode is more in-depth and stores 'Kit' info with patterns. Extended mode has real and step (grid) time editing, supports odd time signatures, and patterns can have up to 32 steps. Also on-board is an Accent assignable to any step with 15 levels of intensity, and continuously variable swing and slide, assignable to the whole pattern or individual steps within the pattern.
MIDI is fully implemented and can control the sequencer and synthesizer functions of the Machinedrum. Trigger sounds or entire patterns synced to MIDI clock. All edit parameters can be controlled by continuous MIDI controller numbers. This machine has it all, giving you total control and the flexibility to create your own unique drum sounds across a wide range of sonic percussion possibilities!
Demos & Media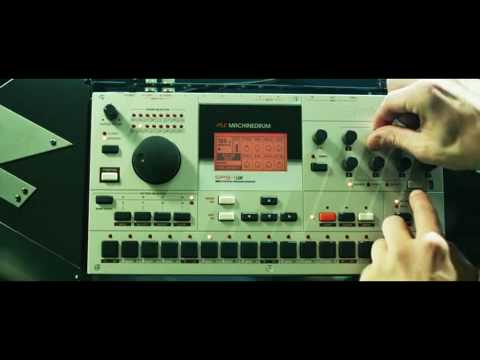 Elektron Machinedrum SPS-1UW+ MKII Drum Synthesizer and Sampler - Part 2
Audio Clip 1
The mp3 doesn't do these two demo patterns justice...but they still show you why this could be the last drum machine you'll ever buy! Pattern 1 is retro but house oriented. Pattern 2 is an electro-break-beat sonic-scape.
Specifications
Polyphony -
16 voices (each voice is a single drum sound)
Oscillators -
Sample Playback and Synthesis; 39 drum sounds via 4 synthesizers: TRX (12 instruments), EFM (8 instruments), E12 (16 instruments), and PI (6 instruments).
LFO -
16 (2 per voice); dual-waveforms assignable to various destinations
Filter -
1 Multi-mode resonant filter per voice 24 dB/oct (4-pole)
Effects -
4 Master Effects: Rhythm Echo reverb/echo, Gate Box reverb, 3-band EQ, Dynamix compressor. Each drum sound has 2 independent echo and reverb Sends.
Instrument effects: Amplitude Modulation, 1-band EQ, Sample-rate Reduction, Distortion.
Keyboard -
16 Trigger pads for triggering sounds and/or programming patterns
Memory -
64 Drumkits, 128 Patterns (up to 32 steps each)
Control -
MIDI IN/OUT/THRU, External Audio Triggering