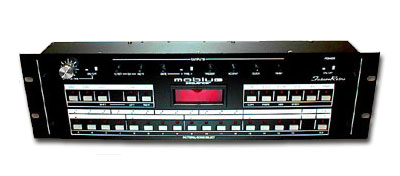 The Mobius is a one-track sequencer designed to control virtually any type of synthesizer or sound module ever created. It has the ability to record and/or transmit MIDI, control voltages, DIN sync and more. It can be used with rarest of vintage synths to the latest MIDI equipment. It offers a simple, intuitive, classic drum machine-like programming interface and can be used to sequence in real time, as a step-sequencer, or even a MIDI-to-CV/Gate or DIN converter.
There are 256 patterns in its memory. Information recorded includes note duration, pitch, accent, glide, loop point, and time signature. Patterns can be edited on-the-fly using copy/paste, pattern shifting, pattern transposing, multiple pattern cueing, and LED chase. It can store up to 16 songs with a maximum of 3580 measures per song. Songs may be chained to play one after the other for extended performances.
The Mobius gives you that vintage sequencer style control of your analog or MIDI synth. Besides MIDI, it features V/OCT CV OUT, HZ/V CV OUT, +12v GATE OUT (switchable for positive or negative type gate), +12v TRIGGER OUT, +5v ACCENT OUT, +5v CLOCK OUT (for arpeggiators, analog sequencers or divider circuits), and +5v CLOCK RESET OUT (for resetting analog sequencers or dividers). And with its Accent and Glide/Portamento effects it's more than ready to accurately and authentically control your TB-303, or act as a MIDI-bridge between the 303 and your MIDI devices. Of course, it can also act as a MIDI-Interface for your other analog CV/Gate/DIN gear too. Slave the Mobius or use it as a Master via MIDI, CV, Gate, Analog Clock and DIN sync. Patterns created in the Mobius and FR-777 are inter-changeable. The 3U rack module can be converted to a Desktop Module with an optional $20 attachment.
Some example uses for the Mobius:
Sequence a MIDI or analog synthesizer using Mobius' internal patterns
Stepping an analog sequencer or an arpeggiator in a synthesizer
Syncing your DIN Sync devices
Syncing any other MIDI devices to the Mobius
Demos & Media
Specifications
Memory -
256 patterns, 16 songs; offline storage via MIDI System Exclusive dumps
Control -
MIDI IN/OUT/THRU, DIN Sync Out, CV, Gate, Trigger, Analog Clock