Realistic Concertmate MG-1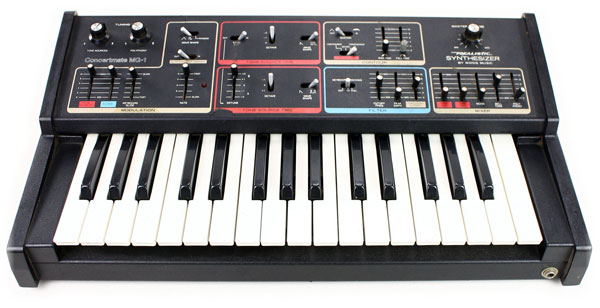 This is the very source of cheap Moog bass! It is a lot like the strap-on Moog Liberation in its design and architecture and also looks and sounds very much like the Moog Rogue. The MG-1 was built by Moog for Realistic (Radio Shack), and was designed specifically for the home market. Very basic and easy to use, this is a nice cheap way to get your hands on Moog sounds!
The MG-1 is a 2-VCO monophonic/polyphonic analog synth with a genuine 24dB/oct Moog filter, however the overall sound is thin. On the MG-1, the VCOs are referred to as 'Tone Generators'. It can produce sawtooth, square and pulse waveforms, and the oscillators are detunable and syncable. A simple ASR (attack, sustain, release) envelope called 'Contour' can be applied to both the amp and the filter. The LFO section provides triangle or square wave patterns as well as Sample-and-Hold. Additionally there is a simple Ring-Mod effect called 'Bell'.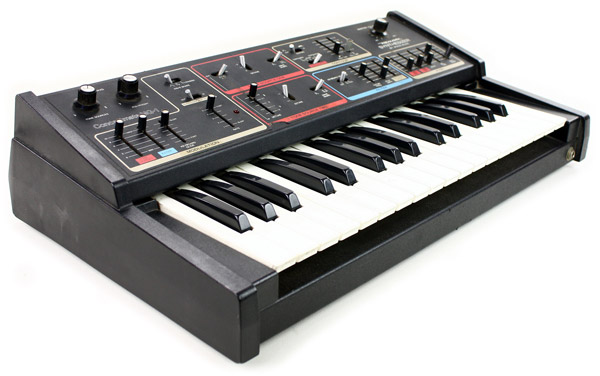 Unique to the MG-1 is a slider on the far right side of the keyboard which controls the volume of a simple divide-down polyphonic organ sound. This feature makes it at least a little more versatile than the Rogue. There are RCA inputs and outputs (the input is routed straight to the output for playing along with music from your stereo system) but no external speakers as in most other home marketed synthesizers. There is also no sign of Midi or patch memory on the MG-1. It is used by Peter Gabriel, 808 State, Remy Shand, and KMFDM.
Here is a table highlighting some of the differences pointed out by a user between the MG-1 and Rogue.
| Realistic Concertmate MG-1 | Moog Rogue |
| --- | --- |
| Sliders for modulation | Switches for modulation |
| Divide-down polyphonic organ | -- |
| No Pitch/MOD wheels | Independant Pitch/MOD wheels |
| Keyboard tracking switches | Keyboard tracking knob |
| Independent waveform selection and pitch | -- |
| Ring modulator effect | -- |
| Osc sync on/off | Osc sync contour |
| Keyboard response is slower | -- |
Demos & Media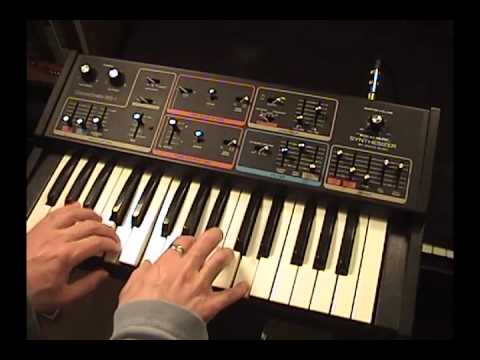 The Realistic (Moog) MG-1: Sounds of the MG-1
Audio Clip 1
Hear it for yourself! These are some nice synth hits and bass lines from this cheap Moog.
Audio Clip 2
A few more warbly analog sounds from the MG-1.
Specifications
Polyphony -
Monophonic (plus fully polyphonic (divide-down) organ sound)
Oscillators -
2 VCO's; TG1: sawtooth and square; TG2: sawtooth and pulse waveforms; Noise source
Filter -
1 24dB/oct lowpass w/ cutoff, emphasis, env amount