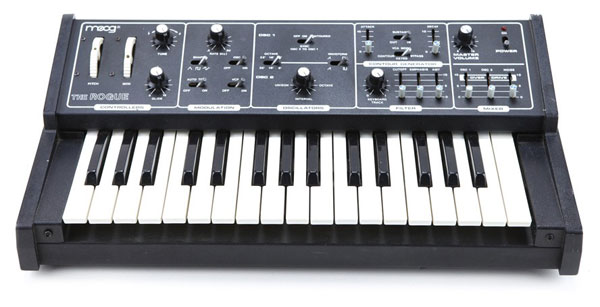 The Moog Rogue could be the very definition of cheap Moog bass. It's a two-oscillator analog monosynth from Moog that, while having genuine and highly desirable Moog componentry, its design cut many corners to make this Moog's most compact and inexpensive offering of its time. In fact, the design was so simplified and streamlined that Moog licensed the design to Tandy/Radioshack who built the nearly identical Realistic Concertmate MG-1, which actually offers more features for less bucks! Incidentally the Rogue is also utilized as the Moog Taurus II Bass Synth with 1-1/2 octave bass pedals instead of the Rogue's 2-1/2 octave keyboard.
The Rogue could be considered a very scaled down version of the Prodigy (which was itself a very scaled down Minimoog) offering far fewer synthesis options and flexibility. Only two waveforms per oscillator (saw and square/rectangle) and, unlike the Prodigy, the oscillators must play the exact same waveform and pitch range, for a much more limited sonic range of synth tones. You cannot mix Sawtooth with Square/Rectangle waves on the Rogue, whereas you can on the Prodigy and Liberation. Another cutback is the single envelope generator that is shared by both the Filter and the Loudness Amp, offering just Attack, Release and a switchable Sustain mode (OFF, HALF, FULL). Still, the Rogue has a decent Moog filter with an external audio input.
Moog was definitely cutting costs with this model, making it the smallest, simplest and most basic synth in their line-up; yet still versatile and user-friendly enough to be used as the Taurus II Bass Pedal synth and an entry-level electronic tinkering Radioshack junkies music machine. To this day, the Rogue is still an inexpensive place to get good Moog sounds! It is used by Peter Gabriel, Add N To (X), 808 State, Stereolab, Mr. Oizo and KMFDM.
Here is a table highlighting some of the differences pointed out by a user between the MG-1 and Rogue.
| Realistic Concertmate MG-1 | Moog Rogue |
| --- | --- |
| Sliders for modulation | Switches for modulation |
| Divide-down polyphonic organ | -- |
| No Pitch/MOD wheels | Independant Pitch/MOD wheels |
| Keyboard tracking switches | Keyboard tracking knob |
| Independent waveform selection and pitch | -- |
| Ring modulator effect | -- |
| Osc sync on/off | Osc sync contour |
| Keyboard response is slower | -- |
Demos & Media
keybdwizrd - Moog Rogue Demo
Audio Clip 1
All sounds = Moog the Rogue! Composed, arranged and recorded by Hannes Rasmus.
Audio Clip 2
Nice bass hits and lines from this cheap Moog.
Specifications
Oscillators -
2 VCOs:
OSC 1: Pitch: 32', 16', 8'; Wave: Sawtooth, Rectangle.
OSC 2: Pitch: 32', 16', 8'; Wave: Sawtooth, Square.
Filter -
1 24dB/oct lowpass w/ cutoff, emphasis, env amount
Control -
CV / GATE (V-trig in, S-trig out)
Resources
Images from Perfect Circuit Audio.
Thanks to Pete Moulton and Eric White for providing information.
Updated June, 2008.