Casio AZ-1
The AZ-1 is a 41-note velocity and aftertouch sensitive performance remote keyboard MIDI controller. 2 wheels, 2 switches and 1 slider are user assignable to different MIDI functions. A row of buttons is used to access 128 program change commands. 2 switchable MIDI channels allow you to switch between two synths or performances on the fly. There are also dedicated sustain and portamento controller buttons. Lightweight and battery-powered. (1986) Image from Perfect Circuit Audio.
---
Korg RK-100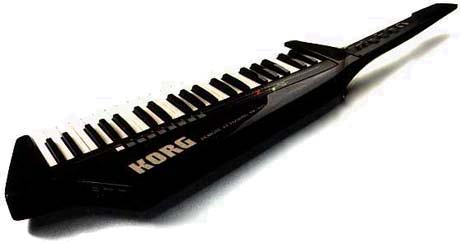 The Korg RK100 remote MIDI keyboard (no velocity) is a 41-note controller for any MIDI synth or module. There are program change buttons that can switch between 64 programs as well as program increment and decrement buttons. There are also 3 wheels to control pitch, modulation and volume. In some cases the mod-wheel can also modulate your synths filter. (1984; Available in black, red, white and walnut)
---
Lync LN-4
LYNC specializes in remote MIDI keyboard controllers. It's a 49-note velocity sensitive controller with assignable wheel, switch and control knobs. There's also a pitch-bend wheel. 4 MIDI outs and switchable channels can tap into 32 MIDI devices! 8 push-buttons can access up to 64 patches as well as increment and decrement. By far the most feature-laden remote keyboard to date. These have been used by Jan Hammer. (1988; Available in black, white, orange, red, blue and yellow) Image from Perfect Circuit Audio.
---
Moog Liberation

Not a MIDI controller but it's still a strap-on. Read the complete review here.
---
Roland Axis

The Axis is a classic 45-note remote MIDI keyboard controller. The keyboard is velocity and aftertouch sensitive. Programs are changed using the black and white keys, up to 120 programs or 10 performances can be accessed. There's a dedicated pitch wheel, assignable mod wheel and volume wheel on the neck. There's also assignable octave up, chord memory and modulation buttons and dedicated program change, midi channel and key transpose buttons. Get the Owner's Manual. (1985)
---
Roland AX-1
The AX-1 strap-on remote MIDI controller has a 45-note velocity sensitive keyboard, switchable velocity curves, octave up/down, transpose, split/layering zones, tempo control for sequencers and more. It has built-in GS control for complete MIDI control of GM/GS synths. The "Expression Bar" controls pitch and mod via a ribbon-like controller. This is the latest and best remote controller for your synths or midi modules. Get the Owner's Manual. (1998) Image from Perfect Circuit Audio.
---
Roland AX-7

The AX-7 builds on the legendary AX-1 design. Just strap it on and step to the front of the stage. A host of controllers, including a D-Beam, open the door to dynamic live performance. 7-segment LED display, expanded patch memory (128 patches with data backup via MIDI), and GM2/GS compatibility make it easy to use. 45-note, velocity-sensitive keyboard. 5 realtime controllers include data entry knob, touch controller, expression bar, hold button, and D-Beam. 128 patches with MIDI data backup. 2 MIDI zones. About $495. (2001)
---
Roland SH-101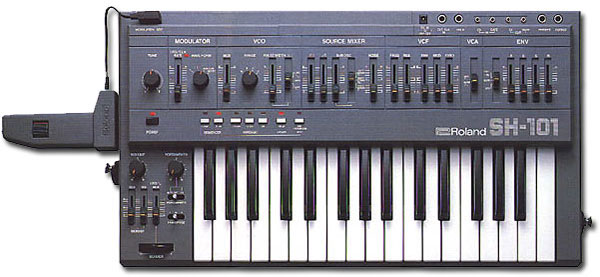 Strap-on monosynth with guitar-style grip option. Read the complete review here.
---
Yamaha KX5
The KX5 is a 37-note remote MIDI controller with velocity and aftertouch sensitivity. A ribbon controller is used for pitch and mod effects. There's also unison, sustain, portamento buttons and a breath controller input. Up to 64 patches can be accessed via 8 buttons, 4 bank buttons and the sustain button. With 2 switchable MIDI channels you can control 2 synths on the fly. None of the buttons or the ribbon control are user-assignable. (1984) Image from Perfect Circuit Audio.