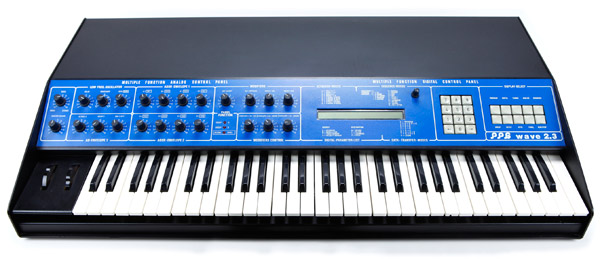 The German made PPG (Palm Products GmbH) Wave 2 series of synthesizers are incredibly great sounding analog/digital hybrid vintage synths. They use digital samples of wavetables and feature analog VCA envelope and VCF (filter) sections for a classic and warm sound. The Wave 2.2 has oscillators that can generate over 2,000 different single-cycle 8-bit digital waveforms! Covered by knobs, the Wave still looks analog and this comprises the "Analog Control Panel". More complex and new-wave editing of the wavetables and samples is covered by the "Digital Control Panel" where there are several key-pad buttons and an LCD screen. Another familiar treat to analog junkies is the inclusion of an 8-track sequencer which features automation of pitch, loudness, filter cutoff, waveforms and more. A cool feature - its onboard sequencer will also record any filtering and wave changes, in real-time!!
The more commonly encountered Wave 2.3 (pictured) followed the 2.2 and had enhanced sample-playback capabilities. The sampler was pretty full-featured for its time and included upgraded 12-bit digital waveforms, Fourier analysis and linear playback of samples. The 2.3 model also featured 8-parts multitimbrality and MIDI implementation. The PPG Waves are know to create excellent pads, brass and bass sounds. It is used by David Bowie, Eat-Static, Electronic Dream Planet, The Fixx, Trevor Horn, Jean Michel Jarre, Art of Noise, Rush, Depeche Mode, Gary Numan, Robert Palmer, Psychadelic Furs, Talk Talk, The Cars, Ultravox, Steve Winwood, Rush, Stevie Nicks, Thomas Dolby, Pet Shop Boys, Mike and the Mechanics, and Stevie Wonder.
In fact it was Tangerine Dream who helped the company and the Wave develop. 1978 saw the development of the PPG Wave Computer 360. But the Wave Computer sounded harsh and tinny. In 1981, the PPG Wave 2 was released which added analog VCF and VCA filter and envelopes to warm the digital sound. The original Wave 2 had 8-voice polyphony, like the 2.2 and 2.3, but it had only one oscillator per voice. The 2.2 offered two oscillators per voice which opened up a whole new realm of sonic possibilities because two separate wavetable sounds could now be combined.
Although PPG fell apart in the mid-late 1980's, their technology found its way into fellow German music company, Waldorf. The Microwave series represents modern day PPG technology, continuing the wavetable synthesis method with modern filters, envelopes, MIDI, and more.

  From Waldorf comes the PPG WAVE 2.V, an amazing new VST Plug-In that recreates the functionality and sounds of the Wave 2.3. Read more about it!.
Demos & Media
First thePPGs.com video - Showing my PPG Wave 2.3 to the public.
Audio Clip 1
Sounds from the PPG Wave synth, from Future Music CD, issue 107.
Audio Clip 2
Sounds from the PPG Wave v2.2 synth, from Future Music CD, issue 107.
Audio Clip 3
Sounds from the PPG Wave v2.3 synth, from Future Music CD, issue 107.
Specifications
Polyphony -
8 Voice / 8 Part Multitimbral
Oscillators -
2 to 16 Oscillators per voice (using Digital Waveforms); 30 Wavetables with 64 waves per table
Arpeg/Seq -
Sequencer: 8-track; 6000 notes/99 patterns/99 songs + arpeggiator
Filter -
analog 24 dB/oct lowpass VCF with ADSR envelope
VCA -
Four Curtis ElectroMusic 3360 Dual VCA chips with ADSR envelopes in the Wave 2.3
Keyboard -
61 keys (responds to aftertouch)
Control -
MIDI, PPG proprietary 8-bit parallel communication buss
Date Produced -

Wave 2: 1981-82
Wave: 2.2 1982-84
Wave 2.3: 1984-87