Looking back at the 1980's, one standout German synthesizer manufacturer was undoubtedly PPG (Palm Products GmbH), fueled by the technology in its wavetable based synthesizer, the Wave 2.x series. But like most vintage synth makers, the company was fading. Towards the end of the 1980's, PPG's technology and several of their employees joined Waldorf, another German manufacturer, and the first product to come out of this collaboration was the Microwave, released in 1989.
The Microwave was built upon what was the PPG Wave. A digital/analog hybrid in which digitally sampled wavetables are processed through analog VCA envelope and VCF (filter) sections producing a classic and warm yet highly complex sound. In fact, the Microwave uses the same wavetables from the PPG Wave 2.3! In effect, the Microwave sounds like the PPG, which in turn, sounds like synth-pioneers Tangerine Dream. To lower production costs and simultaneously attempt to make it more accessible to more musicians, the Microwave was packaged in a two-unit rack module. It's a powerful instrument in a small and unassuming package.
Unfortunately, Waldorf streamlined its design a little too far. With only a handful of on-board buttons and one parameter adjustment knob, editing sounds was quite cumbersome and usually required some sort of external editor to really dig into the power on-hand. Polyphony is slim but decent at 8-voices. There are 64 on-board memory patches, plus another 64 via external memory card. There are no on-board effects.
Over the years, the operating system (OS) could be upgraded via EPROM chips from Waldorf. These added additional wavetables, the options to create custom wavetables, a speech synthesizer, and numerous other improvements. The final OS was version 2.0, released in 1994.
A few years after the Microwave's introduction, a fully realized knob-laden hands-on version of the sort of wavetable technology used here came in the form of the Waldorf Wave. Designed for the high-end synth market, the Wave represented the pinnacle of Waldorf and PPG's wavetable synth technology in its time. However, the success the Microwave found among "every-day" musicians was not lost on Waldorf, leading them to release the much more common yet inferior Microwave II in 1997. The mkII did offer improved features in terms of effects and processing, however it was a fully digital DSP-driven machine and thus, lacked the warmth and character of the original Microwave. Microwaves have been used by Nine Inch Nails, Hardfloor, Jimmy Edgar, Vangelis, and Crystal Distortion.
Demos & Media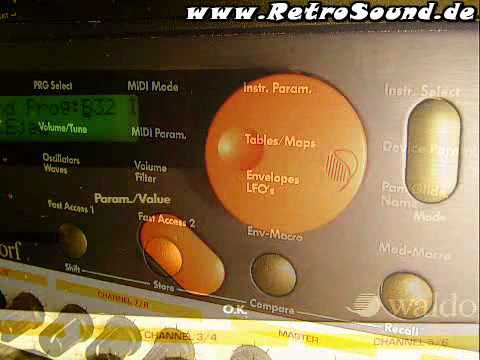 Waldorf Microwave "Wavetable Synthesizer"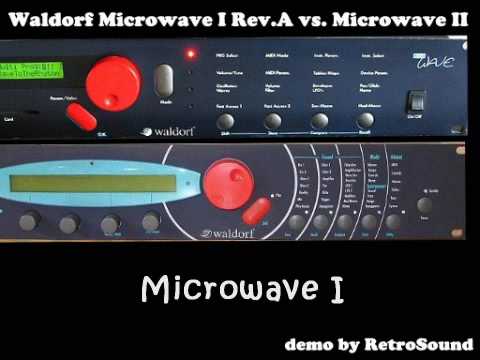 Waldorf MicroWave I vs. MicroWave II
Specifications
Polyphony -
8 voices, 8-part multitimbral
Oscillators -
64 ROM wavetables and waveform samples
VCF -
Analog Curtis CEM 24 dB/oct lowpass filter
Vocoder -
Speech Synthesizer
Memory -
64 internal, 64 external card