The power of the Q synthesizer is now available in an affordable 2-unit rack module. Sound quality is not compromised, it sounds just as great as the more expensive Q! The main limitation is that there are only 6 knobs; however these knobs provide access to dozens of parameters at the push of a button. The Q's powerful arpeggiator is also on-board. There is no sequencer, but a rack module is usually destined for use with an external sequencer or controller anyway. There are two independent filters with low-pass, band-pass, high-pass, notch and comb filters. The filters are resonant and can self-oscillate too! There's also a Modulation Matrix where you can route your signal through flexible and complex processes to really shape your sounds. There's also a stereo vocoder and ring modulator on-board. A Voice Expansion board can boost polyphony in the Micro Q up to 75 voices!
The Micro Q is not an analog synth, but it can emulate them very well. It is great for punchy analog bass, 303 lines, synth leads, trance pads, swirling effects, analog drums, percussion, beats, and lots more! It's worth a listen! Wonderful preset sounds, a challenge to program...bottom line is affordable, incredible sounds! It has been used by Somatic Responses, RadioBomb, and Hardmakz.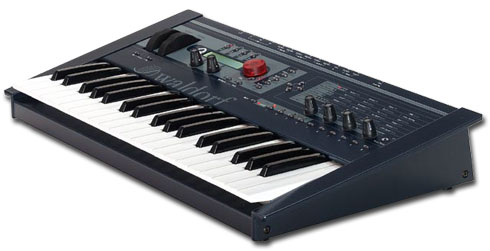 The Micro Q Keyboard is identical to the Micro Q, but packaged in a handy and portable 37 note keyboard. It also adds pedal inputs, pitch/mod wheels, and some front panel numeric buttons.
Demos & Media
Audio Clip 1
Hear a bit of a Demo. Thick pads, resonant distorted basses, airy perc sounds, arpeggios and beats!
Specifications
Polyphony -
25 voices, expandable up to 75 voices
Oscillators -
5 oscillators per voice (Pulse with Pulse Width Modulation, Sawtooth, Triangle, Sine, 2 wavetables with 128 waves each and sub-oscillator per alt-wave); Noise generator
Memory -
300 single programs, 100 multi programs, 20 drum-maps
Filter -
2 Filters (including FM and distortion): Low Pass (12dB/24dB), Band Pass (12dB/24dB), High Pass (12dB/24dB), Notch (12dB/24dB), Comb Filter (positive/negative feedback)
VCA -
4 envelopes, enhanced ADSR configuration with loop and one shot function, bipolar; different trigger modes for each envelope, poly, mono, dual, unison, manual trigger etc.
Modulation -
3 LFOs up to audio range; Modulation Matrix with 16 slots, freely routable, pre-routed modulation destinations, sources selectable
Effects -
2 effects per program, up to 5 effects in Multimode (Effects: Chorus, Flanger, Phaser, Distortion, Delay, 5 FX, Vocoder)
Keyboard -
37 keys (Keyboard model)
Arpeg/Seq -
Arpeggiator with 16 preset plus 1 user pattern, including accents, timing information, swing, glide, chords and more
Control -
MIDI In/Out/Thru (16 parts)
Date Produced -
2000-2001