Yamaha S30
The S30 Control Synth has the same high quality sound set, synth engine, and programming functions as the Yamaha CS6x (sold by Yamaha as "the" trance synth). The S30 provides full 64-note polyphony, 64 multi-mode resonant filters and 24MB AWM2-based ROM. On-board voices include 256 presets with stereo-sampled acoustic pianos, chunky organs, brilliant guitars, lush strings and analog synth sounds. Used by such artists as Faithless for the classic techno song "Insomnia" for that distinctive sound.
Programming is about as easy as, press a key, turn a knob, and listen, then save the sound in any of 128 user-voice memory locations. There are also 128 user-storable performances for layers, splits and multi-timbral sequencer setups. The S30 can take the same optional PLG150 modular Synthesis Plug-in expansion boards as the CS6x, S80 and Motif. Some PLG boards add completely new synth engines that add extra polyphony, voices and effects to the S30's existing ones.
It's a decent real-time controller with four assignable data sliders and five assignable knobs. It certainly makes a great Midi Master Keyboard, drive and control all of your other gear with it! An on-board song sequencer plays back Standard MIDI Files (SMF) from SmartMedia cards, which allow storage of up to 100 songs - including keyboard setups and chained playback. The S30 also lets you store your voices and performance setups on compact SmartMedia cards.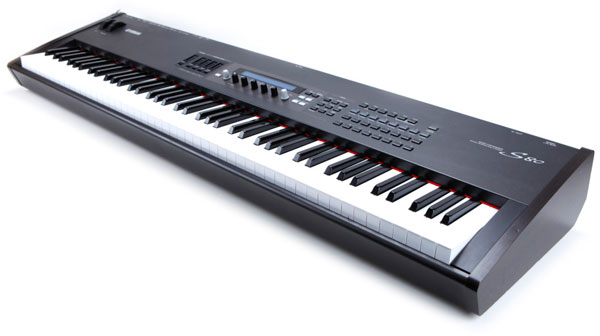 Yamaha S80
The S80 is an elegant 88-key, weighted-action version of the S30, with a second PLG Board expansion slot fitted. All three synths, the S30, S80 and CS6x, are actually the same machinery in different cases. The CS6x places more emphasis on real-time controllers, performance and synthesizing while the S30 and S80 are more workstation oriented.
Demos & Media
Kebu - The Lunar Effect (Yamaha S30 demo)
Audio Clip 1
Demos track. From Future Music CD issue 101.
Specifications
Polyphony -
64 voices (16-part multitimbral)
Oscillators -
16MB AWM2, 479 waveforms; Multitimbrality 16 + 1(A/D) + Plug-in Board (1 slot in S30, 2 slots in S80).
LFO -
Yes with tri, tri up, saw up, saw dw, sq1/4,sq1/3,sq,sq2/3,sq 3/4,trpzd,S/H1,S/H2
Filter -
13 different filters and EQ: 4,3,2 Pole, Band-Pass (6 and 12dB), Hi-pass (12,24dB), Low pass (6,18,24dB), BPF wide, BEF 6.
Effects -
Reverb: 12; Chorus: 23; Insertion Effects: 93; Insertion Effects for Plug-in Boards: 24; Master Equalizer: 4
Keyboard -
S30: 61 keys with Initial Touch/Aftertouch
S80: 88 Keys with Initial Touch/Aftertouch
Memory -
256 preset patches, 8 preset drum kits, 128 internal user patches, 2 internal user drum kits, 128 external user patches, 2 external user drum kits, 128 internal Performance banks, 64 external Performance banks. EXTERNAL MEMORY: Card SmartMedia (TM) 2MB - 32MB.
Arpeggiator -
128 Types (MIDI Sync, MIDI TX, RX, Velocity Rate, Gate Time Rate, Unit)
Sequencer -
SMF Playback (Format 0) Direct Play Only
Control -
Midi In, Out, Through + PC/ Mac Serial
Date Produced -
2000 - 2003