The AX80 has the privilege of being the first pro-keyboard produced by Akai, released in 1984. It's an eight-voice programmable analog synthesizer with a full 61-note keyboard and a series of techno-looking LCD bar-graph displays running across the top of the keyboard. Two analog oscillators per voice plus a sub oscillator provide the basis of its punchy analog sounds that can be described as similar to a Chroma Polaris or Roland Juno 106. Very good bass, brass, synth sounds, and effects are possible. However its strings are average at best.
The blue and orange florescent LCD displays use a simple and intuitive bar-graph format to show all its parameters and values, making for one of the best on-board displays ever! You have to wonder, however, with such a cool display, why couldn't they have included dedicated sliders and knobs for each parameter (see the AX60). A decent amount of patch storage and nice enough sounds make the AX80 a useable synth to have around, but it probably won't replace your Roland Juno. Other notable features of the AX80 include an angled rear panel for easy cable connections, chord memory, MIDI control, and pitch/mod wheels. It's been used by Mark Bell (LFO) on Bjork's Homogenic.
Demos & Media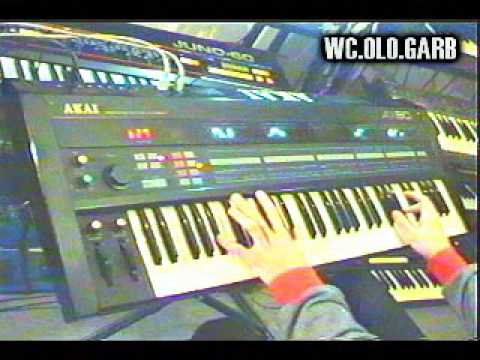 Audio Clip 1
Hear some individual samples, courtesy of Jason "Jinx" Zambito / Club Recordings.
Specifications
Oscillators -
2 per voice + Sub Osc. (sawtooth or variable pulse width)
Filter -
8 VCFs (1 per voice)
VCA -
8 ADSRs (1 per voice)
LFO -
3 LFOs controlling OSC 1, OSC 2, VCF
Keyboard -
61 keys (velocity sensitive)
Memory -
96 patches (64 user, 32 preset)