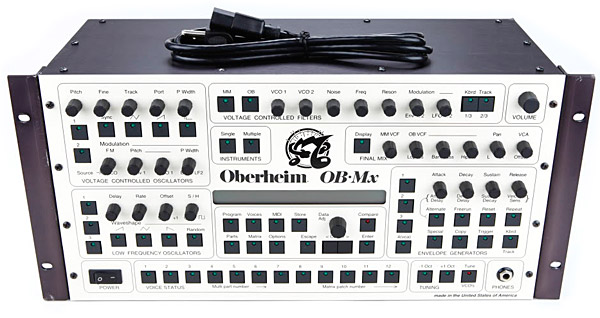 The OBMx is a modern synthesizer module with an audio path that is entirely analog. It has an intuitive and powerful interface which makes it easy for anyone to program their own unique sounds. The OBMx claims to deliver the classic Oberheim and Minimoog sounds while being completely programmable and midi compatible.
One historical point is that the OB-Mx is, at present, the last synthesizer designed by Don Buchla. Buchla has sort of disowned this unit, though. Its filters are actually pretty bad. They don't manage to emulate either the 2-pole Oberheim or 4-pole Moog filters In fact they sound notoriously thin and tweezy. The so-called 'Oberheim filter' provides 12 dB/oct low, band or hi pass filtering, with resonance. And the 'Minimoog filter' uses a meatier 24 dB/oct low-pass filter.
The OB-Mx was one of the few real analog synths, however, available with completely modern features. And because it comes from Oberheim, you can expect great sounds, design, and features. The OB-Mx is highly user upgradeable. Out of the box the OB-Mx comes with one two voice expansion card which contains the two oscillators, 4 multistage envelopes, 3 LFO's, and filters. Up to 6 of these cards can be easily installed sufficiently adding to the phattness of this synth and its capabilities. Unfortunately, the high cost of extra voice cards also made a fully-outfitted OB-Mx a very pricey proposition when put up against other more commonly-available digital instruments of its time. It has been used by Nine Inch Nails, Sneaker Pimps, Apollo 440, DJ Spinna, and U2.
Demos & Media
See and hear it in this video demo!
Specifications
Polyphony -
2 voice (expandable to 12)
Oscillators -
2 per voice; Triangle, Sawtooth, Pulse Width waveforms
LFO -
3 LFOs (triangle, sawtooth, sample/hold)
Filter -
2 filters per voice; Resonant 12 dB/oct Oberheim type filter with low, band, hi pass and a 24 dB/oct Minimoog low-pass filter section
VCA -
4 multistage envelopes per voice
Memory -
256 patches, 256 performances
Control -
MIDI (12 parts)