Move out of the way everyone because the Big-Boys are back in town! Oberheim is back with their first analog-emulation professional synthesizer. This blue beauty is supposed to recreate and emulate the classic sounds and tone of the original Oberheim analog filters. The OB-12 is a 12 voice synth with 4-part physical modeling synthesis. Loads of real-time knobs (22), sliders (24), and buttons (33) with a traditional layout give you fast hands-on access and control of most parameters. Extra hands-on goodies include a ribbon controller, pitch bend and modulation wheel.
Aside from great analog sounds, the OB-12 has an amazing set of hi-tech features! The OB-12 features a high quality LCD display that actually draws out all of the parameters you are changing. There are on board 5-band graphic & parametric EQ, ADSR's with delay time and double decay. An addictive Motion Recorder and manual or auto oscillator morphing for animated sounds or effects. Phrase Recorders and Arpeggiators with Independent tempo controls and 5 dedicated buttons are on-board with plenty of features and are MIDI syncable. There is also an extensive effects section that give you reverbs, delays, chorus and lots of overdrive algorithms. You'll also find digital SPDIF outputs, analog outputs, and MIDI in/out and thru.
Demos & Media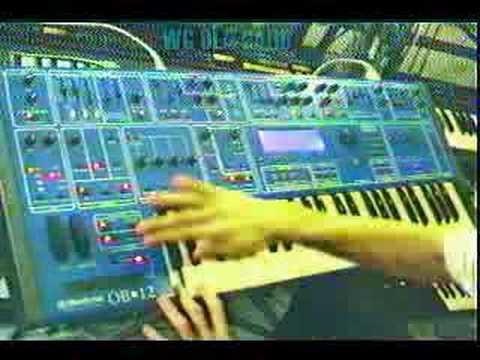 Oberheim OB12 | demo (1 of 2)
Audio Clip 1
A bunch of short sequenced and arpeggiated demos of OB-12 sounds submitted to us by Moimir Papalescu.
Audio Clip 2
Large, analog, breathy analog synth pad sounds from the OB-12, submiited by MuzikB.
Audio Clip 3
Moody resonant strings from the OB-12, submiited by MuzikB.
Audio Clip 4
The OB-12 makes a nice sounding 8-voice analog string pad inspired by the Oberheim SEM, submiited by MuzikB.
Specifications
Polyphony -
12 voices (Dynamic allocation + User Voice reserve)
Oscillators -
2 per voice w/ noise & ring modulator (Sawtooth, Triangle & Square w/ WaveMix and FM)
LFO -
Sawtooth, Triangle, Square, S&H noise
Filter -
2 multimode filters with Lowpass, Hipass, Bandpass, and Flat with serial/parallel configurations and up to 24 dB/octave slope.
Effects -
Overdrive, Chorus, Delay, Reverb
Keyboard -
49 Keys (Velocity and aftertouch)
Memory -
256 user programs, 256 user timbres