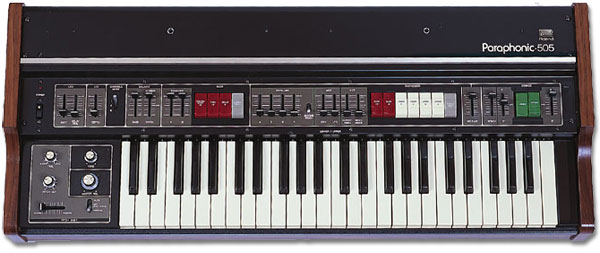 The RS-505 Paraphonic Strings replaced the classic RS-202 and combined strings, a basic polysynth section and a bass section. The keyboard was shortened to 49 keys and is split down the middle to assign different sounds to the left and right sides of the keyboard.
The Synth section has four waveforms (selected by the large white buttons) and its own VCF with cutoff and resonance sliders, VCA ADSR sliders and LFO features. The Bass section has three preset bass sound types to choose via the big red buttons. It has its own VCA Attack and Release sliders and Vibrato controls. The String section has two String preset sounds - selectable via the big green buttons - and other features borrowed from the RS-202.
Sounds from the three tone sections can be blended for interesting results and the built-in Ensemble chorusing effect really warms, thickens and lushes up the sounds! The Paraphonic 505 also features an external audio input (mono) so you could run another synth through the quadruple-BBD Ensemble chorus. A new little performance control section to the left of the keyboard provides convenient volume, tune, glide and pitch bender controls. Similar to the ARP Omni, the Paraphonic 505 is considered one of Roland's finest string synths of its era.
Demos & Media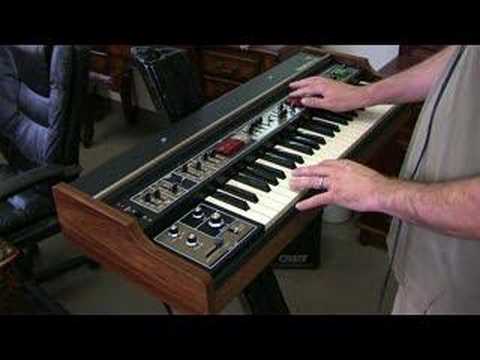 Roland RS-505 Paraphonic Keyboard Synthesizer Demo
Specifications
Oscillators -
1 VCO per section (Synth, Bass, Strings)
LFO -
Yes (in Synth section)
Filter -
Yes w/ cutoff, resonance (in Synth section)
VCA -
ADSR in Synth, AR in Bass.
Memory -
2 Preset Strings, 3 Preset Bass, 4 Preset Synth Waveforms
Control -
VCF CV In, Trigger, Gate