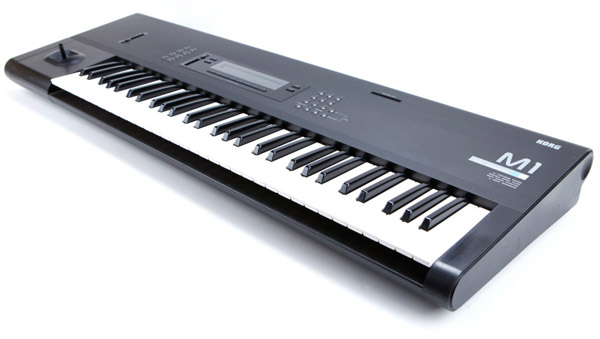 The M1 was and still is a popular and widely used digital synthesizer and music workstation. The M1 features built-in AI Synthesis for full digital generation and processing using 4MB of PCM sampled and synthesized waveforms which can be shaped using analog-style editing. The M1 is capable of creating acoustic instruments with clarity, nice digital sounds and good buzzy techno sounds. The M1 is sort of like a workstation-version of the Roland D-50.
In addition to its acclaimed sound, it has a somewhat sophisticated 8-track sequencer. It holds 10 songs and 100 patterns and up to 7,700 notes, and offers full quantizing and editing. Full MIDI implementation suites the M1 ideally for studio production and MIDI system use. Up to 8 parts of multitimbrality with the 8 track sequencer makes for a powerful machine. Add to that a host of digital multi-effects and you've got one of the most widely and professionally used Korg synthesizers around.

UPGRADES: The EXK-M1 optional ROM expansion kit doubles the PCM waveform memory to 8MB (275 multisampled sounds) for even greater sonic possibilities. The EX-M1R is the same upgrade but designed for the M1R (rack version). That's right, there's a rack version of the M1 available as the M1R as well.
The M1 has been used by 808 State, Banco De Gaia, Ken Ishii, Depeche Mode, Fluke, The Cure, The Orb, The KLF, Plastikman, Bomb The Bass, Gary Numan, Robert Miles, Mike Oldfield, Kitaro, Rick Wakeman, Rod Argent, Joe Zawinul, Patrick Moraz, Pet Shop Boys, Vangelis, the Cranberries, Sin and Jellyfish.
Demos & Media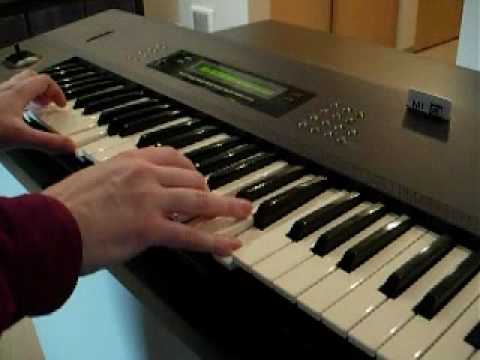 Korg M1 Synthesizer - Part One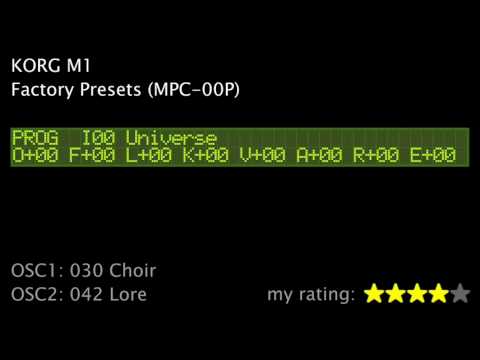 Demos of factory presets from the M1 (MPC-00P) card
Patch Files
Lots of Midi Sysex patches, original factory patches, custom patches, and more from the Korg M1 Page. They are for Macintosh and Windows/PC.
Specifications
Oscillators -
4MB PCM waveforms (144 multisampled sounds)
Effects -
Digital multi-effects: reverb, delay, overdrive, EQ, chorus, rotary speaker, and more.
Filter -
VDF: Variable Digital Lowpass Filter, velocity sensitive (non-resonant)
VCA -
VDA: Variable Digital Amplifier; 3 independent 4-stage ADSR envelope generators
Keyboard -
61 keys with Velocity, Aftertouch, Multi, Layer, Split modes