Korg Polyphonic Ensemble S
Polyphonic Ensemble Orchestra / PE-2000
Korg's Polyphonic Ensemble S arrived on the scene in 1976, one of many preset-based analog string and orchestral instrument synthesizers at the time. It was manufactured in Japan by the Keio Organ company (aka KORG). However, during this early period in KORG's history, the name of this synthesizer has become somewhat confused. The KORG distributed units are named the Polyphonic Ensemble "Orchestra" and designated with the PE-2000 model number. Other units were manufactured for Unicord, presumably as part of a distribution deal outside of Japan, and they were named the Poly-Ensemble "S" and designated with the K-5 model number. There are no technical differences between these models, and in this article we will refer to them as the Polyphonic Ensemble S.
The Polyphonic Ensemble S was released in conjunction with the Polyphonic Ensemble P (PE-1000/K-4). The two instruments are quite different from each other, but were intended to complement each other as a pair, with the "S" model being designed around sustained sounds such as strings, choir and organ, and the "P" model designed for percussive sounds such as acoustic and electric piano, and clavichord.
Poly-Ensemble S / K-5 manufactured for Unicord
The Polyphonic Ensemble S was one of KORG's first polyphonic instruments. Like most polyphonic keyboards of the time, it has full polyphony across the entire 48-note keyboard. It featured four preset sounds with two variations each: String 1 & 2, Pipe Organ 1 & 2, Brass 1 & 2, and Chorus 1 & 2. A maximum of two preset sounds could be combined together, ie: Brass + Strings. The sounds were generated by three analog oscillators per note which gave it a much richer sound than the PE-1000/K-4 model. However, very little can be done to modify the sounds; envelope Attack and Sustain, oscillator de-tuning, and EQ Treble and Bass are the only controls. Fortunately a nice Phase Shifter can be dialed in to give the sounds some retro seventies shimmer.
The Polyphonic Ensemble S is a metal and wood construction built into a rugged flight case. It offered stereo output, a dedicated headphone output with volume, and an expression pedal input. While it may not be the most flexible option out there, the Polyphonic Ensemble S's sounds are unique and quite useable, especially if classic seventies string machine sounds are your thing. It has been used by Jean-Michel Jarre, Tangerine Dream and Hawkwind.
Demos & Media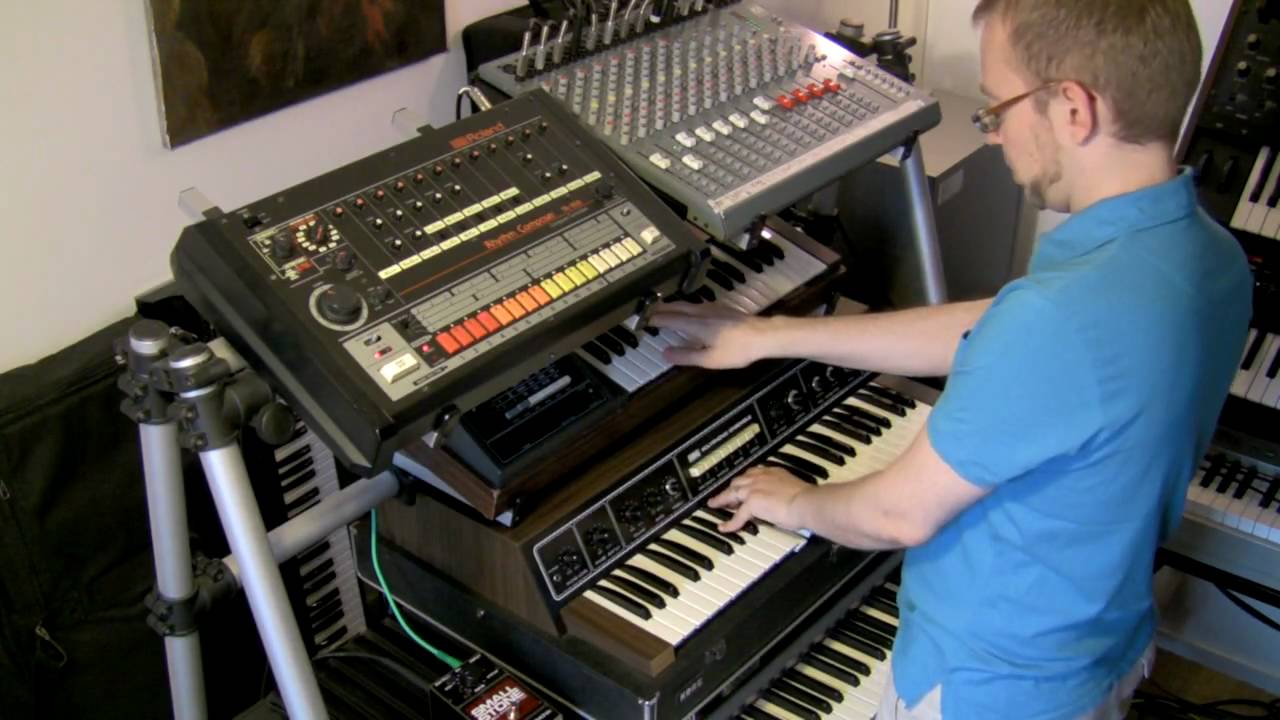 Kebu - To the unknown woman (Korg M-500 & PE-2000 demo)
Specifications
Polyphony -
Full 48 notes
Oscillators -
3 VCO's per note
Filter -
Bass (low pass), Treble (high pass)
Envelope -
Attack, Sustain
Control -
Expression Pedal
Date Produced -
1976 - 1979